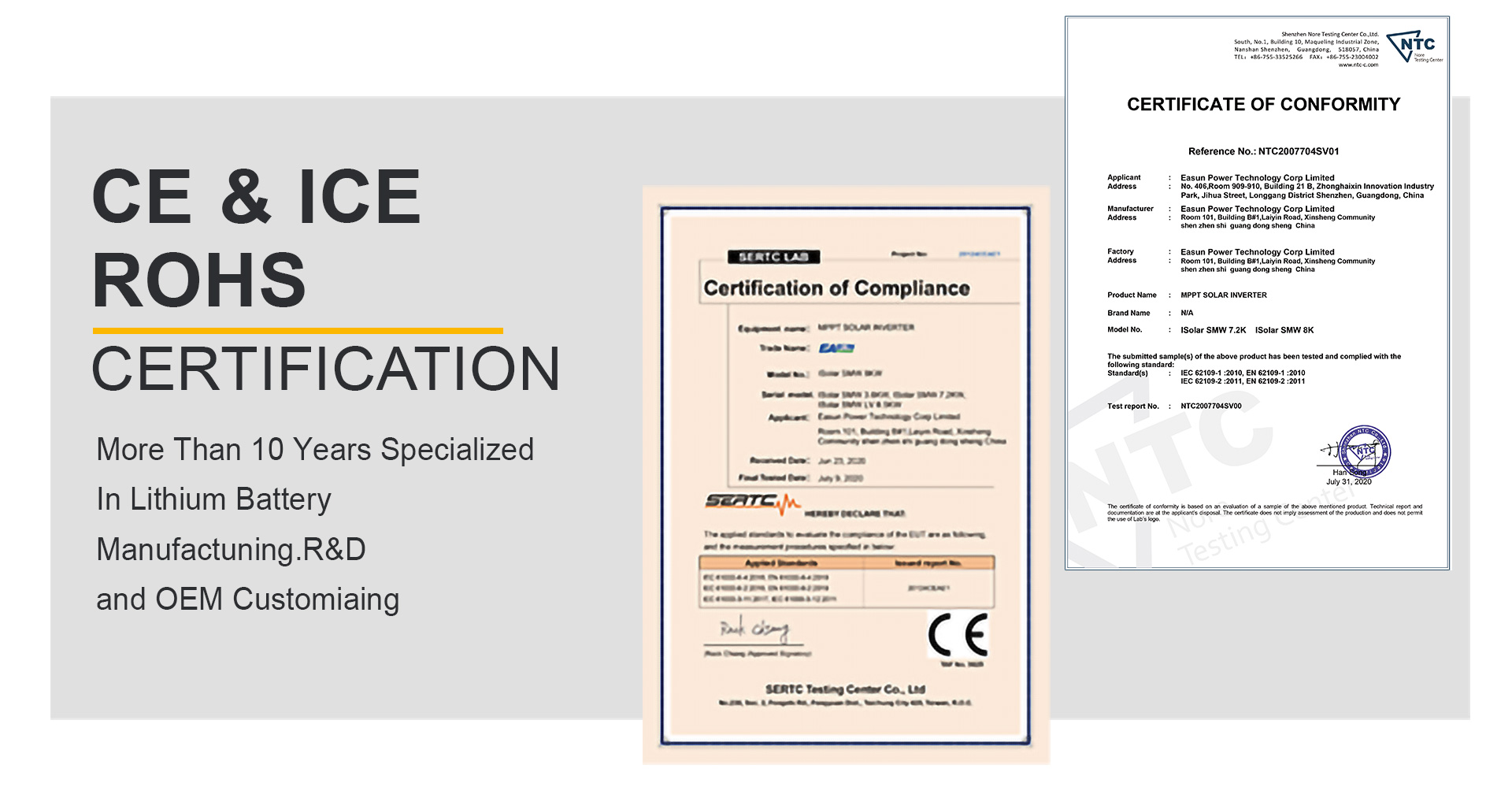 | | | | |
| --- | --- | --- | --- |
| Quick Details | | | |
| Place of Origin: | Guangdong, China | Warranty: | 12 Months |
| Brand Name: | EASUN POWER | Weight: | 12KG |
| Model Number: | ISolar SMX 3.6KW | Product name: | MPPT Solar Charger |
| Input Voltage: | 220VAC | Feature: | solar inverter |
| Output Voltage: | 220V/230V/240V | Rated Power: | 3600VA/3600W |
| Output Current: | 80A | MPPT Range Operating Voltage: | 120-450VDC |
| Output Frequency: | 50 Hz/60 Hz | Maximum PV Array Power:: | 4000W |
| Output Type: | Single | Battery Voltage: | 24VDC |
| Size: | 378 x 280 x 173mm | Maximum Solar Charge: | 80A |
| Type: | DC/AC Inverters | Display: | LCD+LED Display |
| Inverter Efficiency: | 93% | pv power: | 500Vdc |
| Certificate: | CE | Types of: | Off grid Solar Inverter |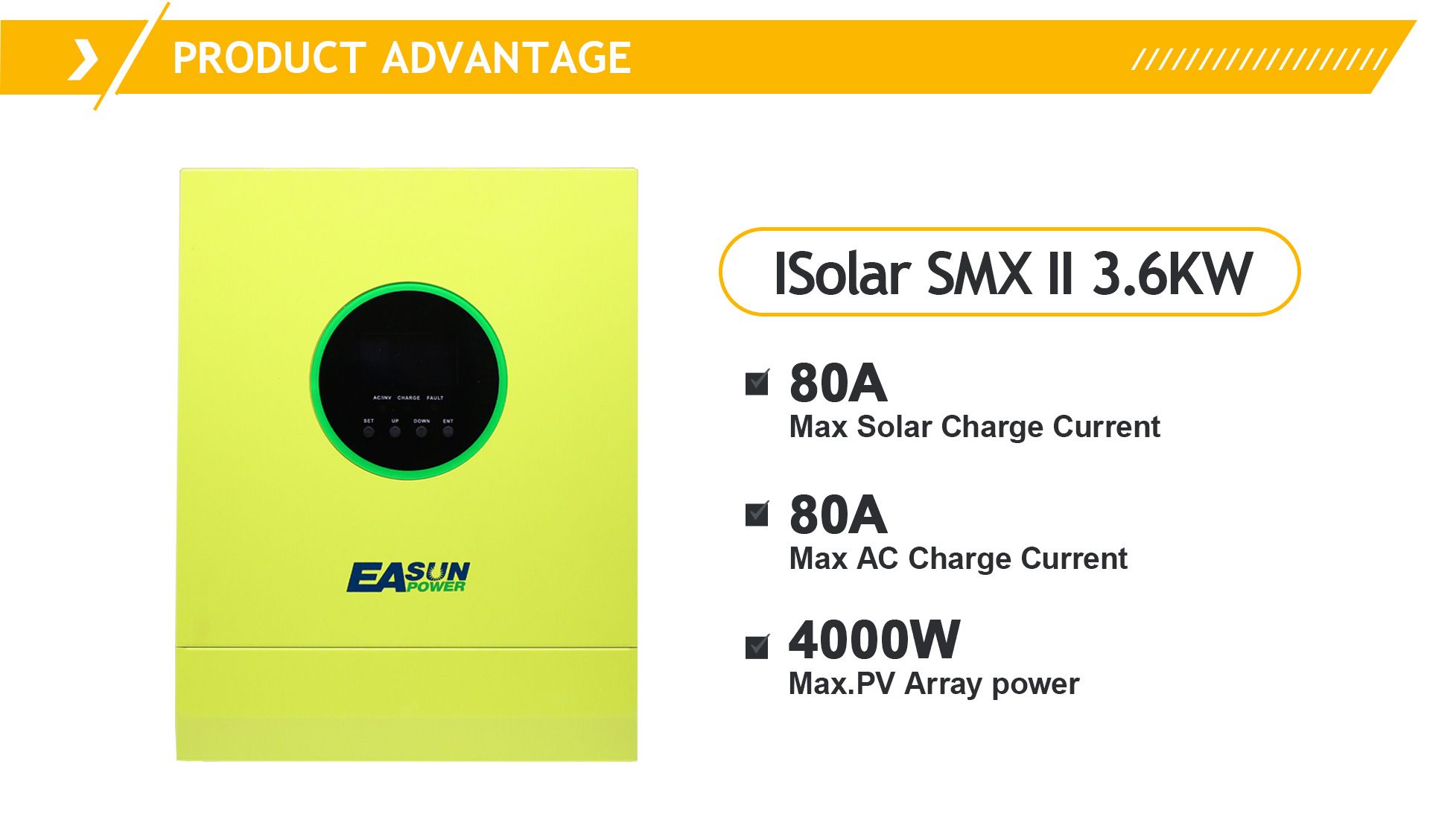 Specification
1. Adopt full digital voltage and current double closed-loop control and advanced SPWM technology to output pure sine wave.
2.Two output modes, i.e. mains bypass and inverter output can achieve uninterrupted power supply function.
3. Available in 4 charging modes: Only Solar, Mains Priority, Solar Priority and Mains & Solar hybrid charging.
4. Advanced MPPT technology, with efficiency up to 99.9%.
5. Wide MPPT voltage range.
6. With function of activating lithium battery with solar energy and AC mains power,it supports connection of lead-acid battery and lithium battery.
7. LCD screen design and 3 LED indicator lights dynamically display system data andoperation states.
8. ON/OFF rocker switch can control AC output.
9. With power saving mode function, it can reduce no-load loss.
10. Intelligent adjustable speed fan is adopted for efficient heat dissipation and extended system life.
11.Possessing multiple protection functions and 360° comprehensive protection.
12. Possessing complete short circuit protection,overvoltage and undervoltage protection, overload protection, back filling protection, etc.

Models

ISolar-SMX-II-3.6KW

ISolar-SMX-II-5.6KW

AC mode

Rated input voltage

220/230Vac

Input voltage range

(170Vac~280Vac) ±2%;(90Vac-280Vac)±2%

Frequency

50Hz/ 60Hz (Auto detection)

Frequency Range

47±0.3Hz ~ 55±0.3Hz (50Hz)/57±0.3Hz ~ 65±0.3Hz (60Hz);

Overload/short circuit protection

Circuit breaker

Efficiency

>95%

Conversion time (bypass and inverter)

10ms (typical)

AC reverse protection

Available

Maximum bypass overload current

30A

40A

Inverter mode

Output voltage waveform

Pure sine wave

Rated output power (VA)

3600

5600

Rated output power (W)

3600

5600

Power factor

1

1

Rated output voltage (Vac)

230Vac

230Vac(200/208/220/240Vac settable)

Output voltage error

±5%

Output frequency range (Hz)

50Hz ± 0.3Hz/60Hz ± 0.3Hz

50Hz ± 0.3Hz/60Hz ± 0.3Hz

Efficiency

>92%

>90%

Peak power

6000VA

10000VA

Loaded motor capability

2HP

4HP

Output short circuit protection

Circuit breaker

Circuit breaker

Bypass breaker specifications

30A

40A

Rated battery input voltage

24V (Minimum starting voltage 22V)

48V (minimum start voltage 44V)

20.0Vdc~33Vdc ± 0.6Vdc (Undervoltage alarm/shutdown voltage overvoltage alarm /overvoltage recovery... settable on LCD screen)

Battery voltage range

Power saving mode

Load ≤50W

AC charging

Battery type

Lead acid or lithium battery

Maximum charge current

80A

60A

Charge voltage range

20.0Vdc~33Vdc

40~60Vdc

Short circuit protection

Circuit breaker and blown fuse

Breaker and blown fuse

Circuit breaker specifications

30A

40A

Overcharge protection

Alarm and turn off charging after 1 minute

PV charging

Maximum PV open circuit voltage

500Vdc

500Vdc

PV operating voltage range

120-500Vdc

120-500Vdc

MPPT voltage range

120-450Vdc

120-450Vdc

Battery voltage range

20-33Vdc

40-60Vdc

Maximum intput power

4000W

6000W

PV charging current range (can be set)

0-80A

0-80A

Charging short circuit protection

Blown fuse

Blown fuse

Wiring protection

Reverse polarity protection

Inverse wiring protection

Certified specifications

Certification

CE(IEC 62109-1)

EMC certification level

EN61000, C2

Operating temperature range

-15°C to 55°C

Storage temperature range

-25°C ~ 60°C

Humidity range

5% to 95% (Conformal coating protection)

Noise

≤60dB

Heat dissipation

Forced air cooling, variable speed of fan

Communication interface

USB/CAN/RS485(WiFi/GPRS)/Dry node control

Size (L*W*D)

378mm*280mm*103mm

426mm*322mm*126mm

Weight (kg)

6.9

10.9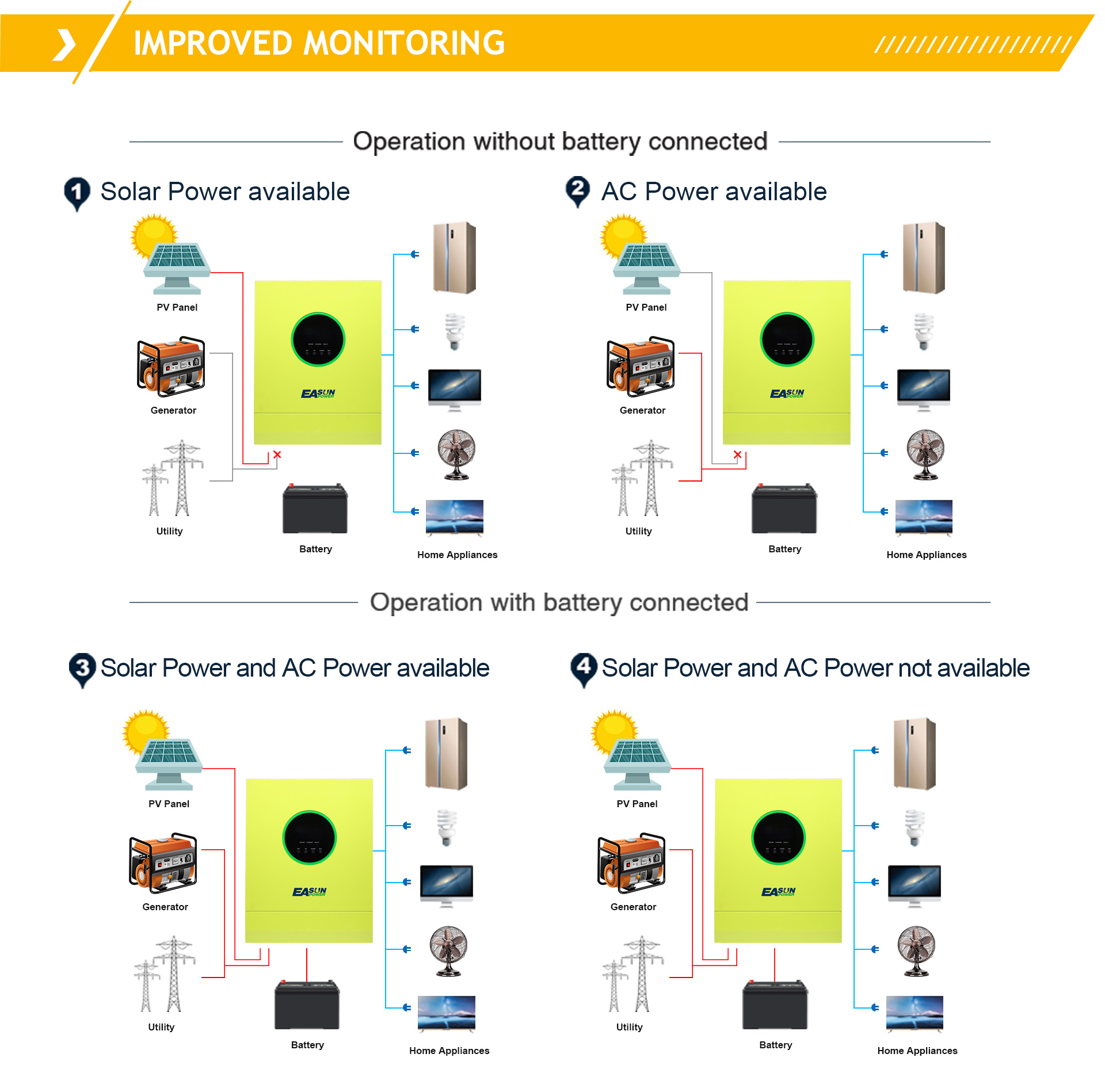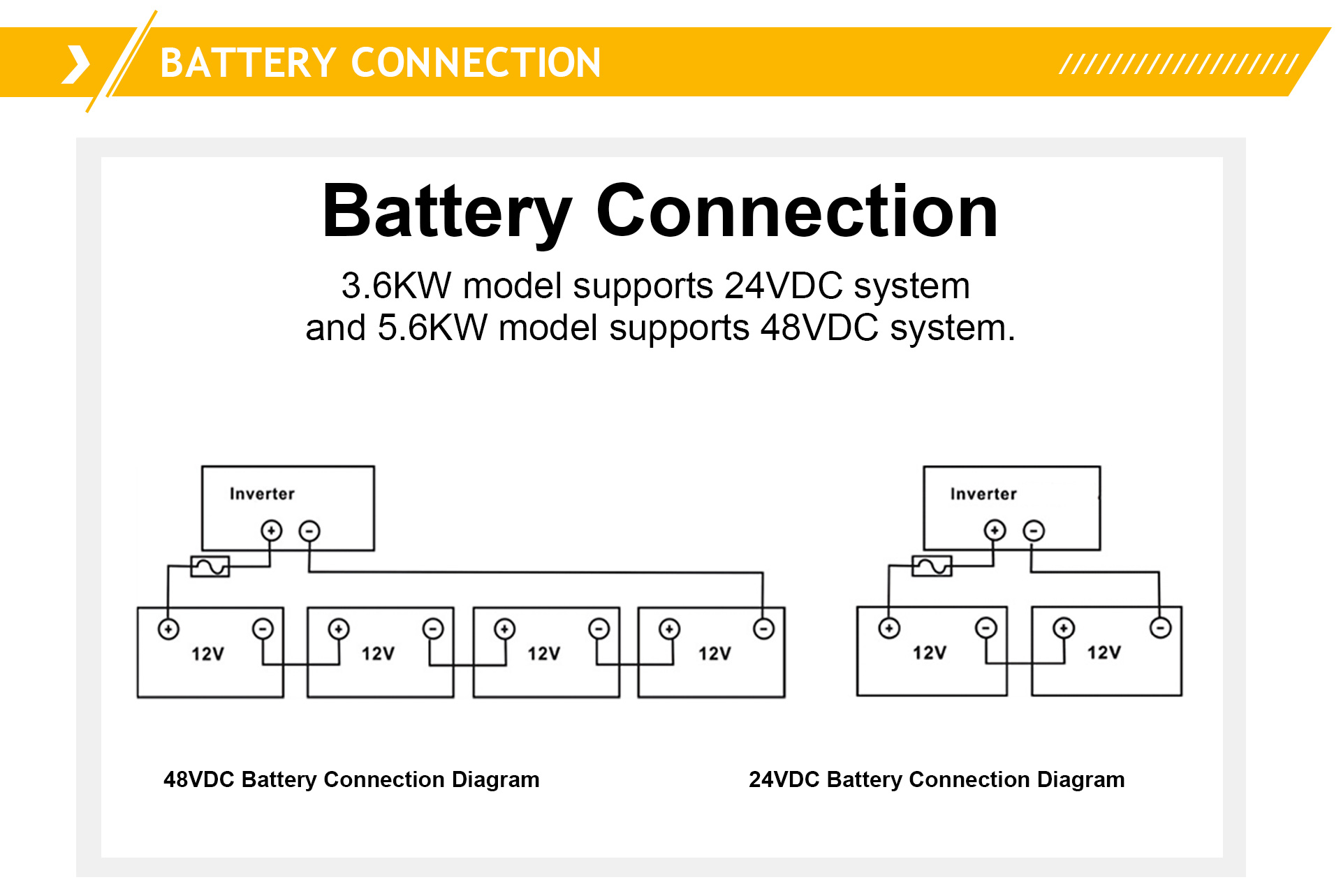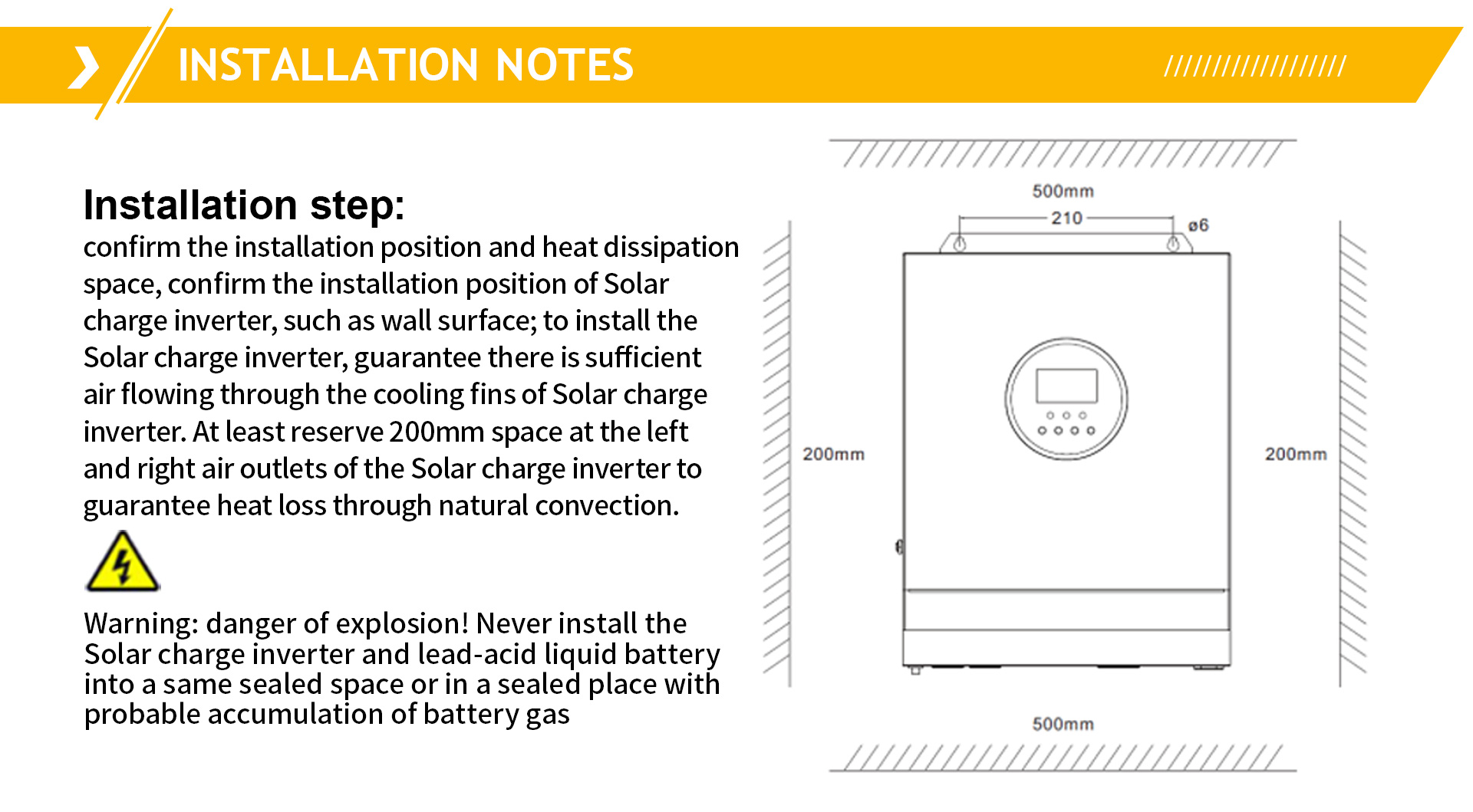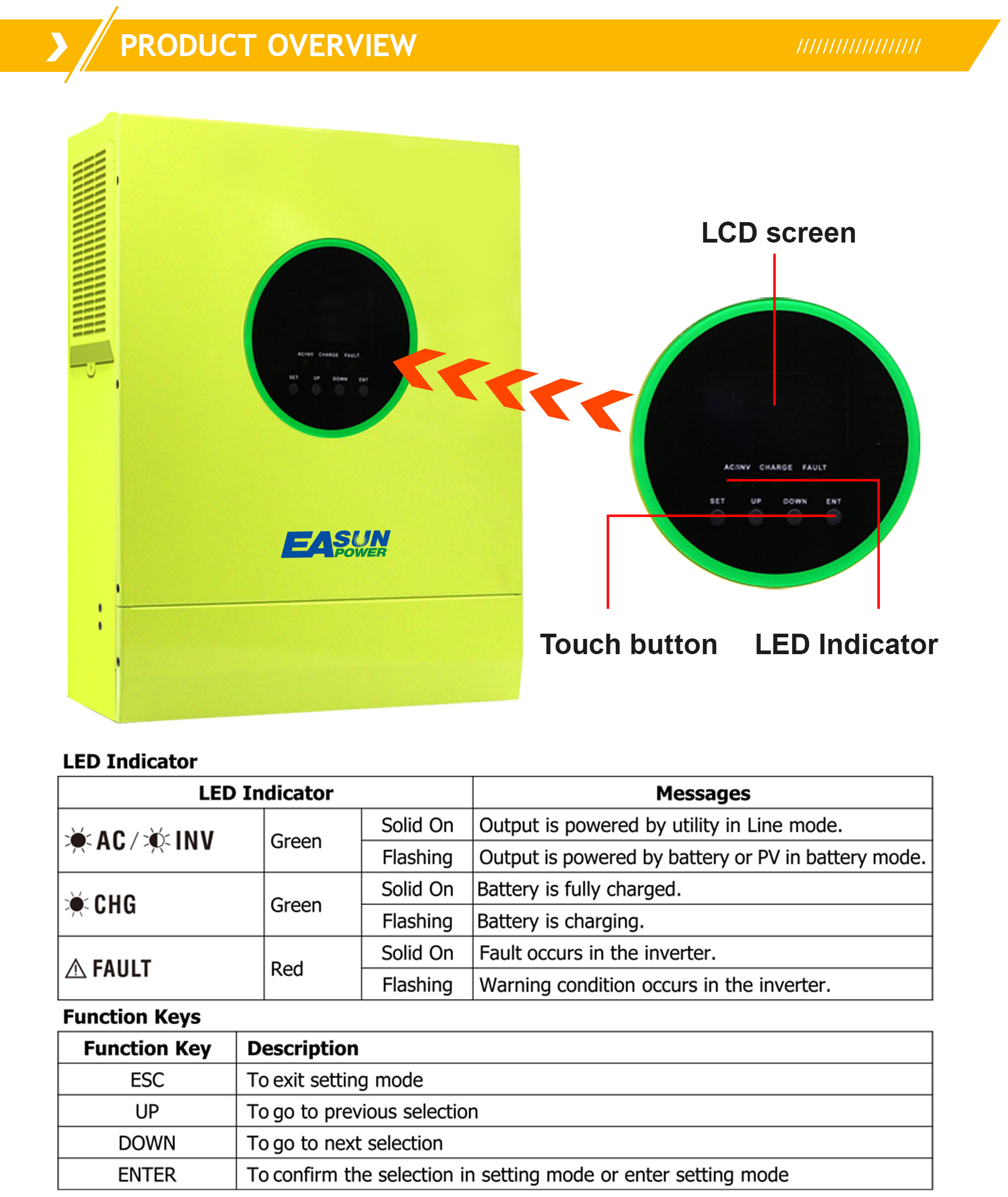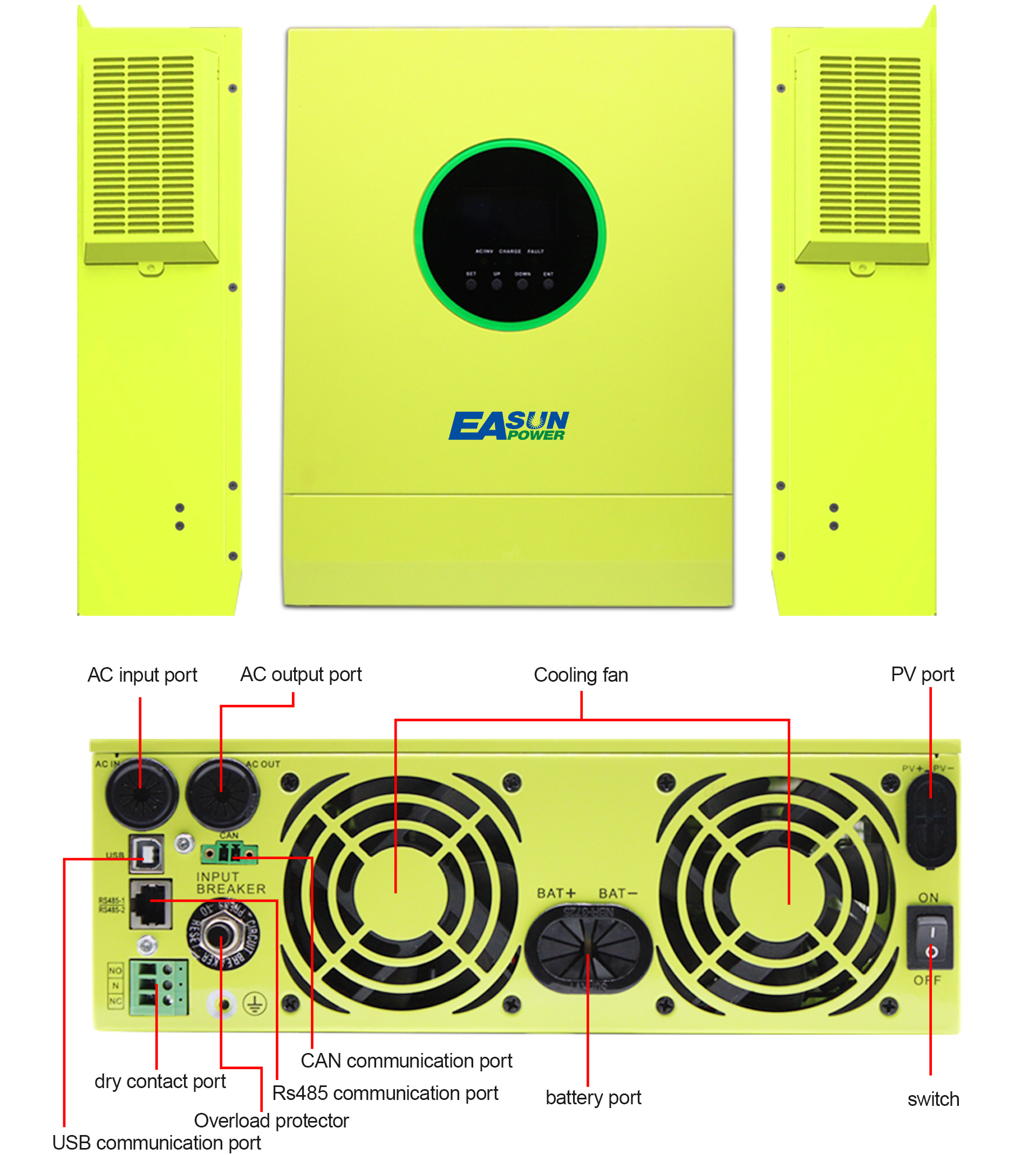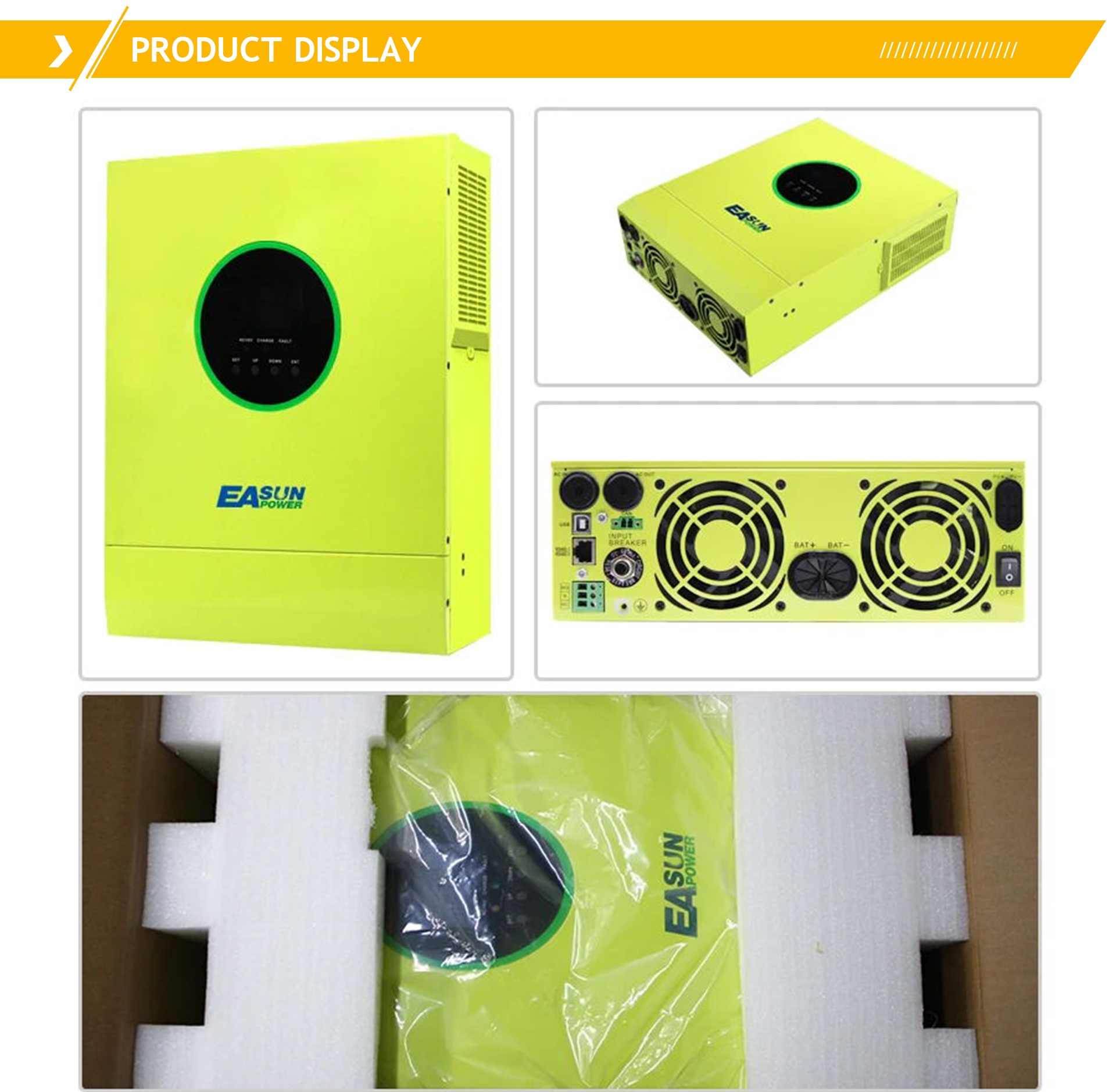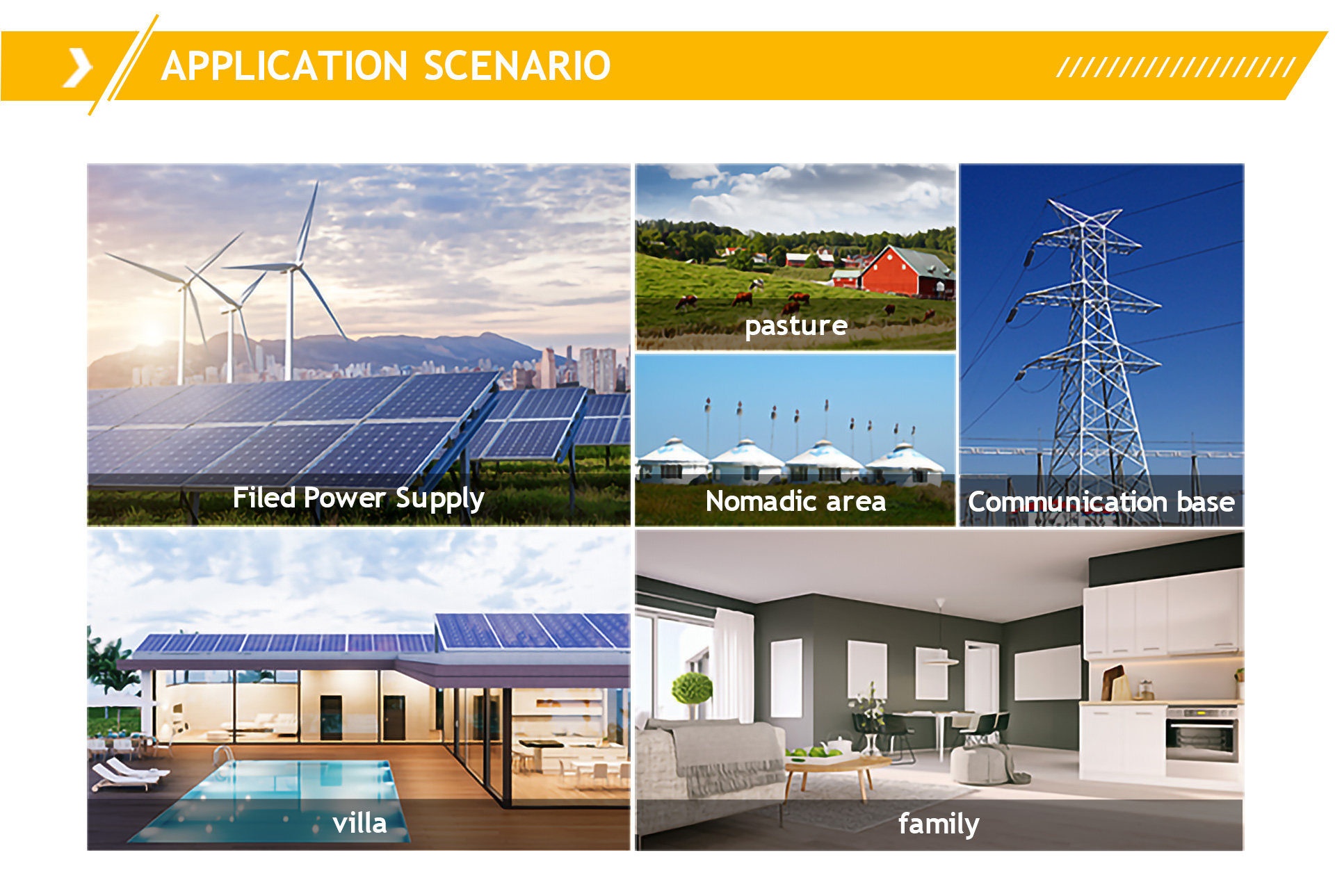 FAQ
1. Who are we?
We are Easun Power factory is a leading high-tech enterprise which established in 2012. It is located in Shenzhen China, sell to North America(25.00%),Mid Eas(15.00%),Southern Europe(15.00%),Western Europe(10.00%),South America(5.00%),Eastern Europe(5.00%),SoutheastAsia(5.00%),Africa(5.00%),Oceania(5.00%),Eastern Asia(5.00%),Northern Europe(5.00%). There are total about50-100 people in our office.
2. Why choose us ?
With strong R&D, manufacture and quality control of inverter products;
We have built a comprehensive sales & marketing network and experienced after-service center;
3. What can you buy from us?
Solar Inverter, Car Power Inverter , Solar Charger Controller,Battery
4. Q: How to order ?
A: Step 1, please tell us model name or link and quantity you need;
Step 2, then we will make a PI for you to confirm the order details;
Step 3, when we confirmed everything, can arrange the payment;
Step 4, finally we deliver the goods within the scheduled time.
5. Q: When will make delivery ?
A: Delivery time
-Sample order: 1-3 days after receipt of the full payment.
-Stock order: 3-7 days after receipt of the full payment.
-OEM order: 12-20 days after receipt of the deposit.
6. After-sales Service
1 year warranty for all kinds of Inverter;
If you find any defective accessories after receiving the goods, please contact us at once. we will give you the new parts forfree to replace in the next order after confirmation, as an experienced manufacturer, you can rest assured of the quality andafter-sales service. ( Please refuse to sign if the goods package in broken situation )
7. What services can we provide?
Accepted Delivery Terms: FOB,CFR,CIF,EXW,CIP,FCA,Express Delivery;
Accepted Payment Currency:USD,EUR,CAD,AUD,HKD,GBP,CNY;
Accepted Payment Type: T/T,L/C,PayPal,Western Union,Cash,Escrow;
Transportation: DHL, UPS , EMS, FedEx, TNT, Air freight , Sea freight, Train way.