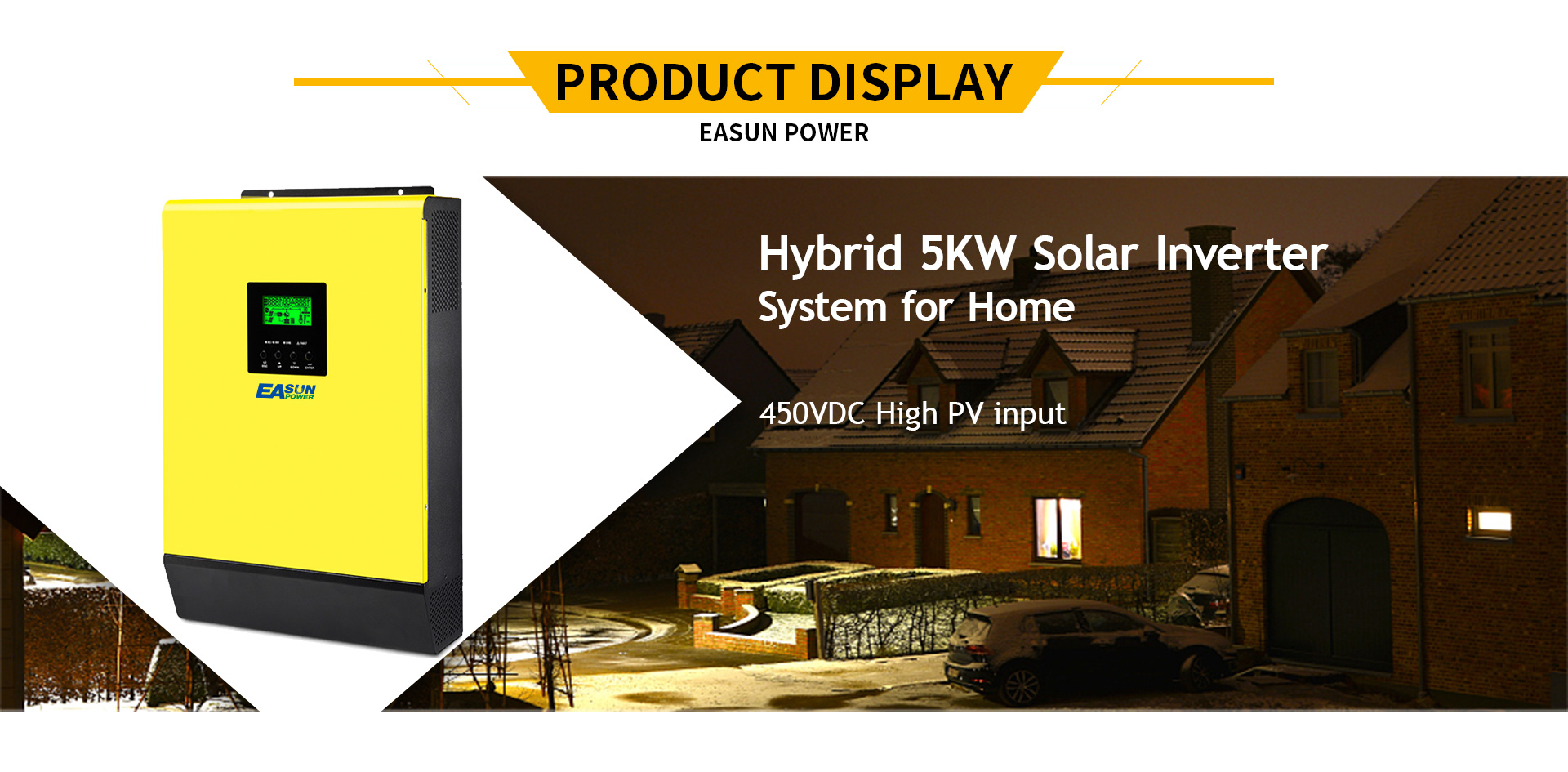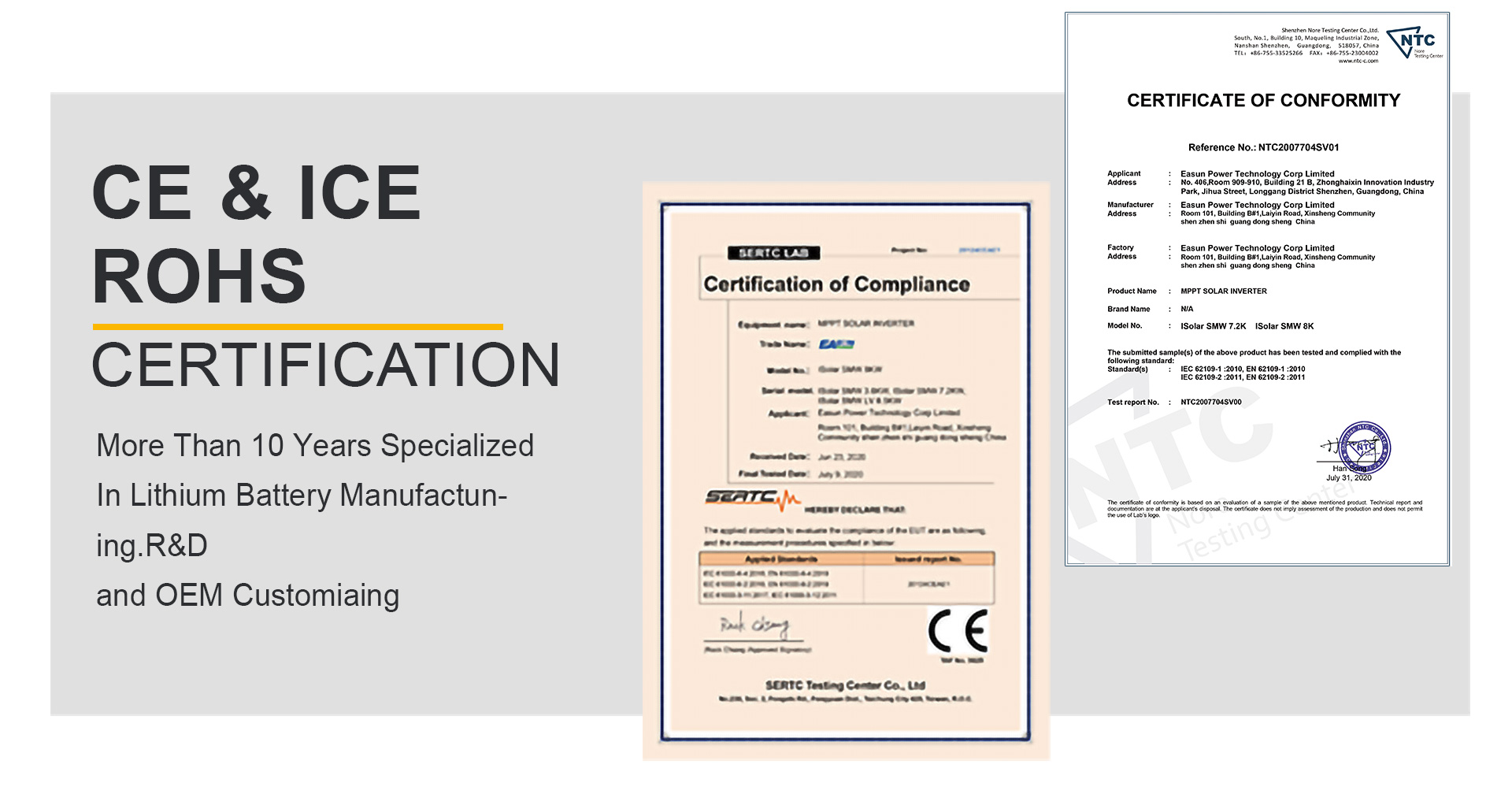 | | | | |
| --- | --- | --- | --- |
| Place of Origin: | Guangdong, China | Warranty: | 12 Months |
| Brand Name: | EASUN POWER | Weight: | 13KG |
| Model Number: | IGrid-SV-II-5KW | Product name: | MPPT Solar Charger |
| Input Voltage: | 230VAC | Feature: | Hybrid solar inverter |
| Output Voltage: | 220V/230V/240V | Rated Power: | 5000W |
| Output Current: | 13A | Nominal Output Current: | 18A |
| Output Frequency: | 50 Hz/60 Hz | Maximum AC Input Current: | 100A |
| Output Type: | Single, Triple, Multiple | Nominal DC Voltage: | 48VDC |
| Size: | 120*295*468mm | Maximum Solar Charge: | 100A |
| Type: | DC/AC Inverters | Communication Ports: | USB, RS-232 and dry contact |
| Inverter Efficiency: | 93% | pv power: | 450Vdc |
| Certificate: | CE | Types of: | Hybrid Grid Tie Solar Inverter |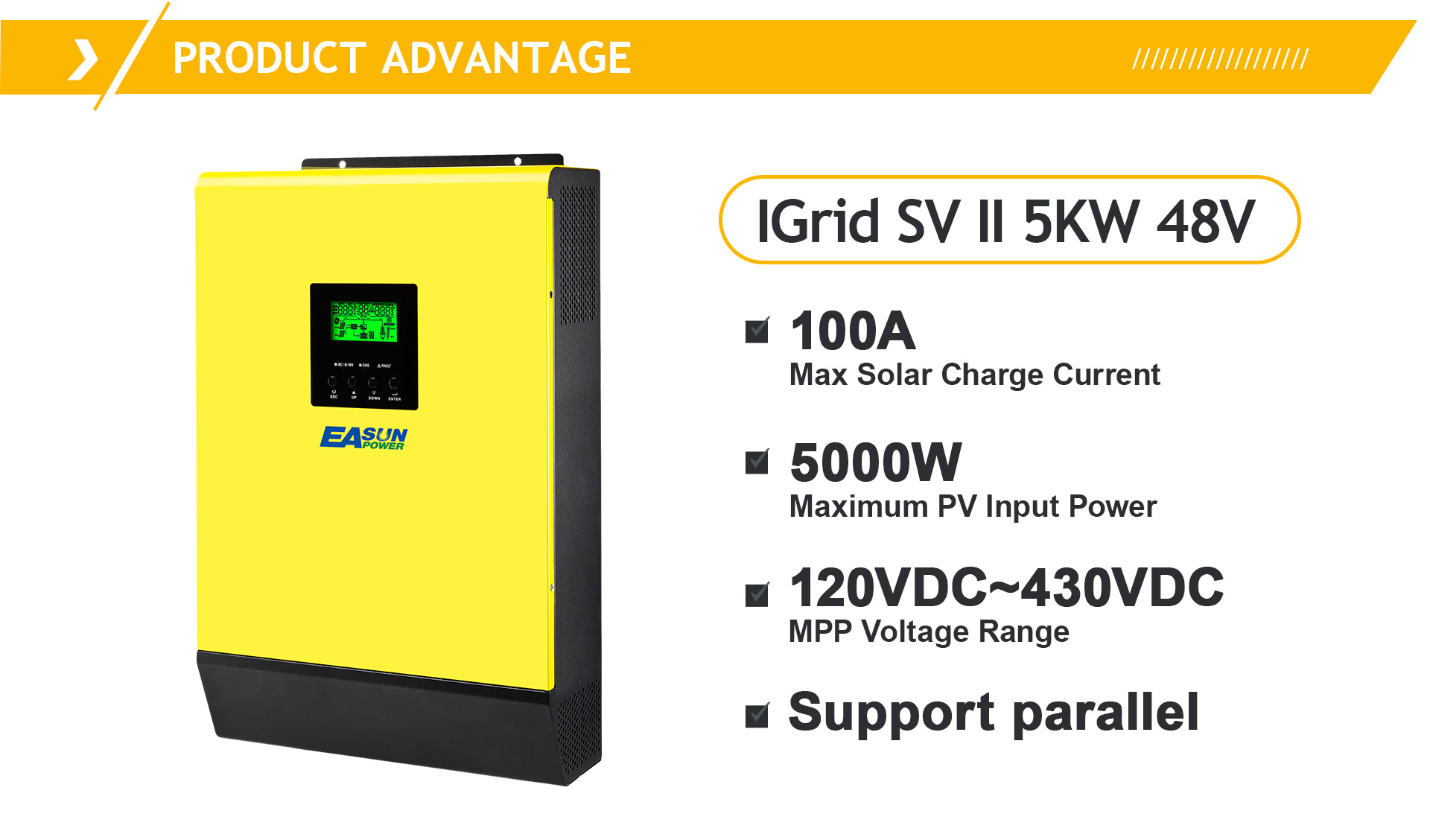 Product Main Features
* Pure sine wave max 5000w output
* Max 100A MPPT solar charger
* Max 450Vdc input
* HYBRID Grid-Tie / Off Grid SOLAR inverter for 48V system
* Parallel support up to 9 units
* Batteryless operation
* Total system max charging: 80A
* Bundled monitoring & setting software
* Supports 50hz or 60hz (program adjustable)
* Grid feedback when there is excess energy
* USB interface available
* Able to use ac grid or generator power
* Timer setting for AC charging & output now available

MODEL

IGrid SV II 5KW

IGrid SV II 6KW

Maximum PV Input Power

5000W

6000W

Rated Output Power

5000W

6000W

GRID-TIE OPERATION

PV INPUT (DC)

Nominal DC Voltage / Maximum DC Voltage

60 VDC / 450 VDC

360 VDC / 500 VDC

MPP Voltage Range

120 VDC ~ 430 VDC

120 VDC ~ 430 VDC

Number of MPP Trackers / Maximum Input Current

1 / 18A

1 / 27A

HYBRID OPERATION

Nominal Output Voltage

220/230/240 VAC

Nominal Output Current

21.7A

26A

Power Factor

> 0.99

EFFICIENCY

Maximum Conversion Efficiency(DC/AC)

95%

OFF-GRID OPERATION

Frequency Range

50 Hz/60 Hz (Auto sensing)

PV INPUT (DC)

Maximum DC Voltage

450 VDC

500 VDC

BATTERY MODE OUTPUT (AC)

Nominal Output Voltage

220/230/240 VAC

Output Waveform

Pure sine wave

BATTERY & CHARGER

Nominal DC Voltage

48 VDC

48 VDC

Maximum Solar Charging Current

100 A

120 A

Maximum AC Charging Current

100 A

120 A

Maximum Charging Current

100 A

120 A

GENERAL

Net Weight (kgs)

12

INTERACE

Parallel Function

Yes, 9 units

Communication Port

USB or RS-232/Dry Contact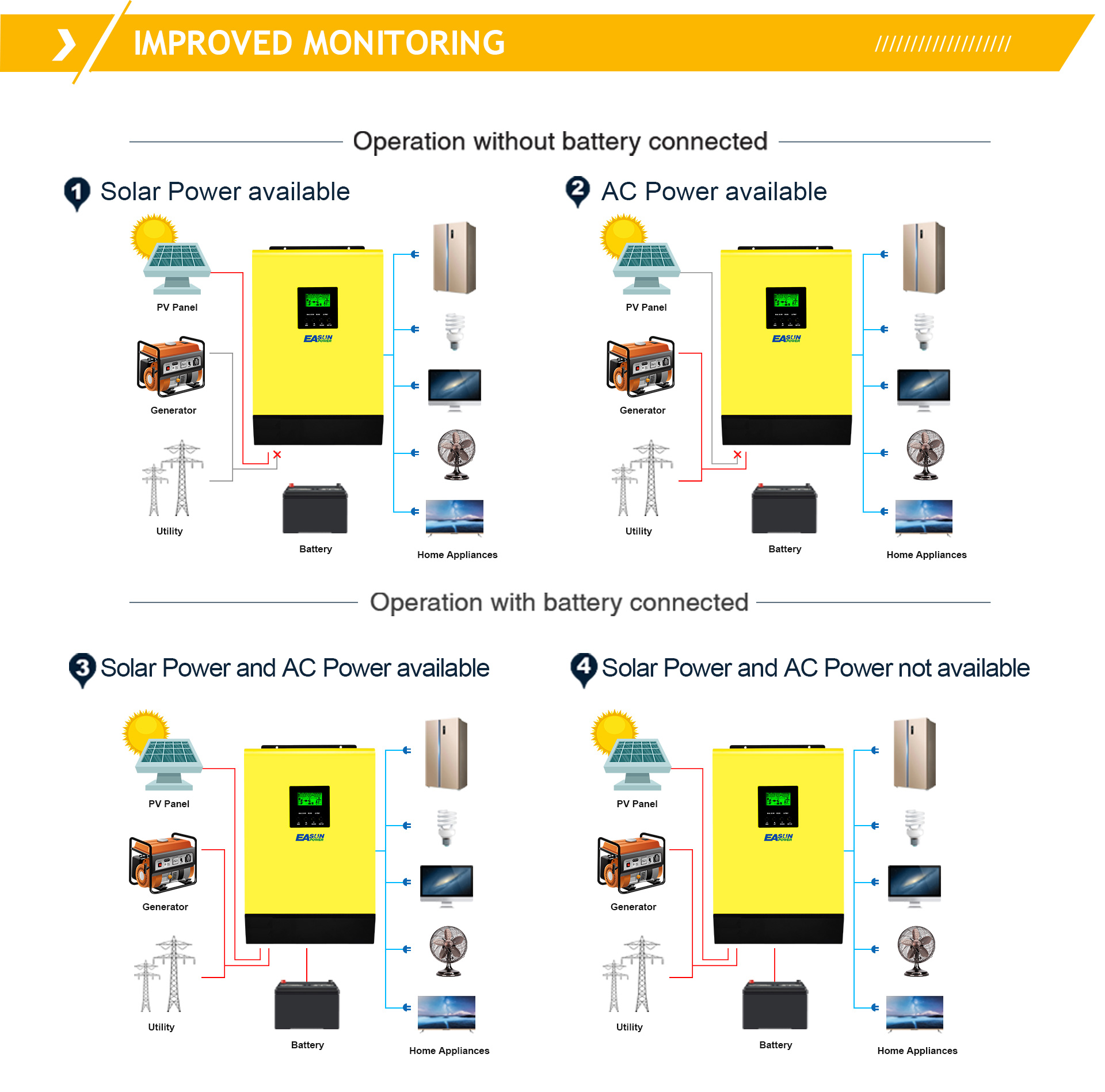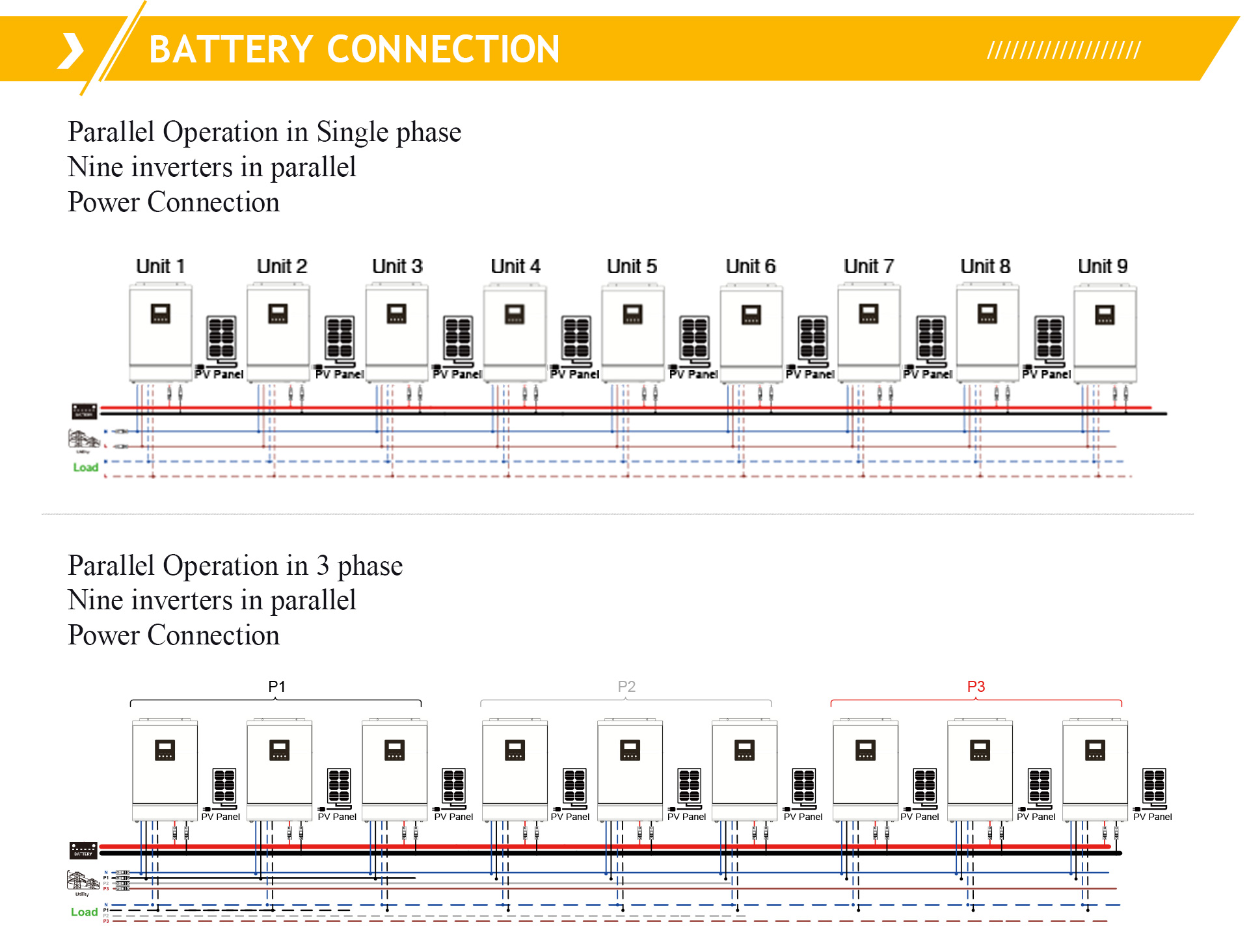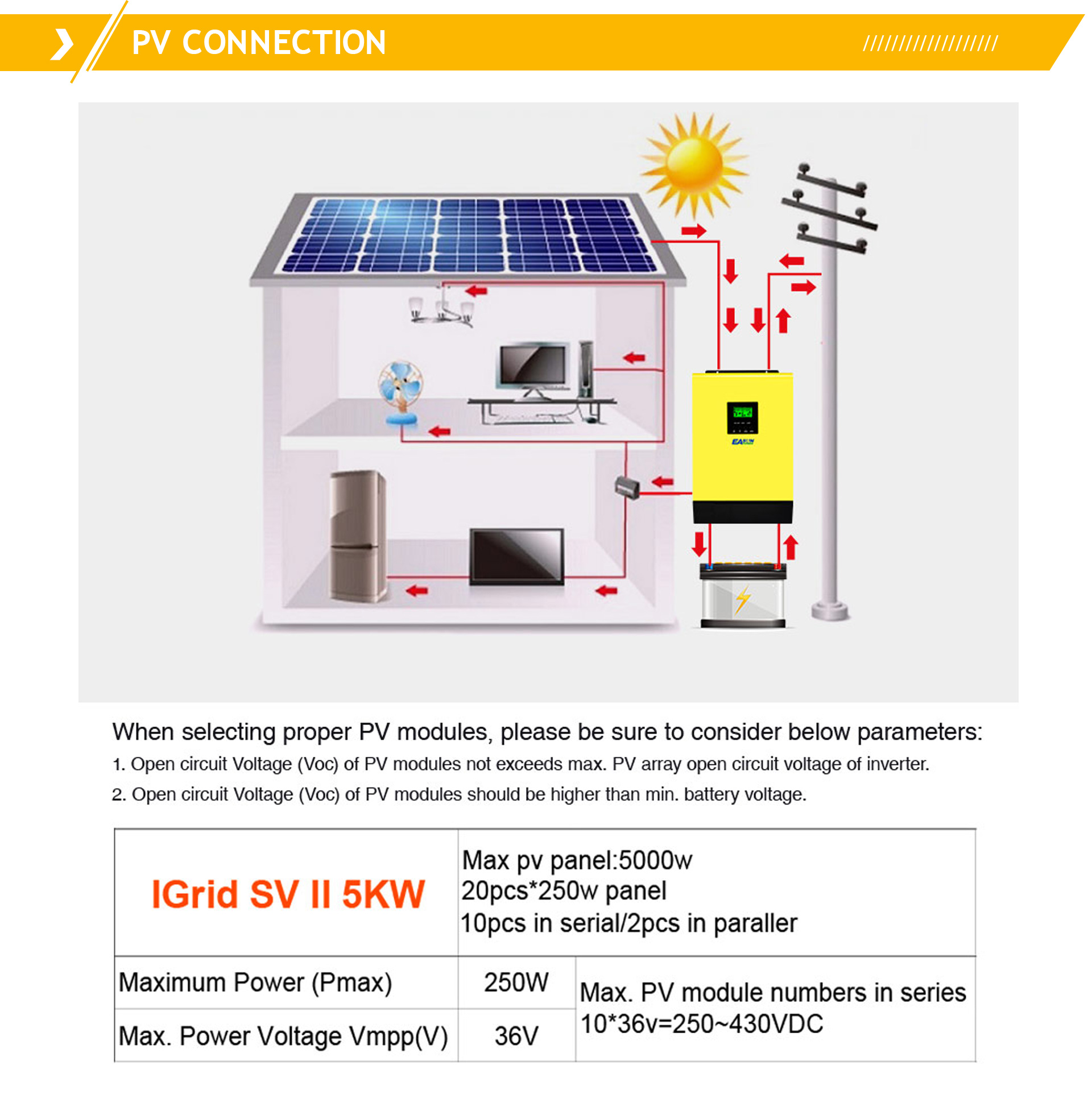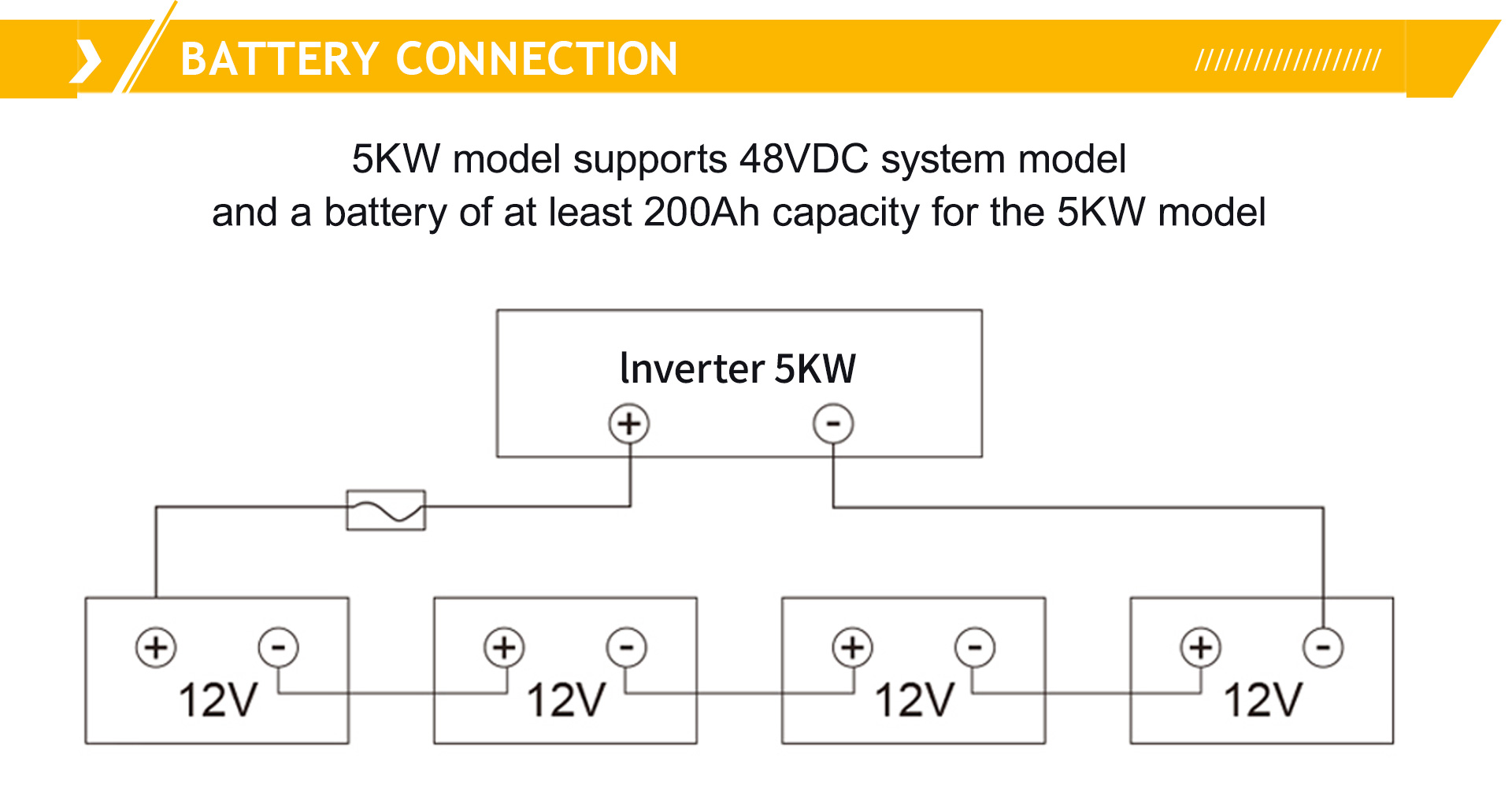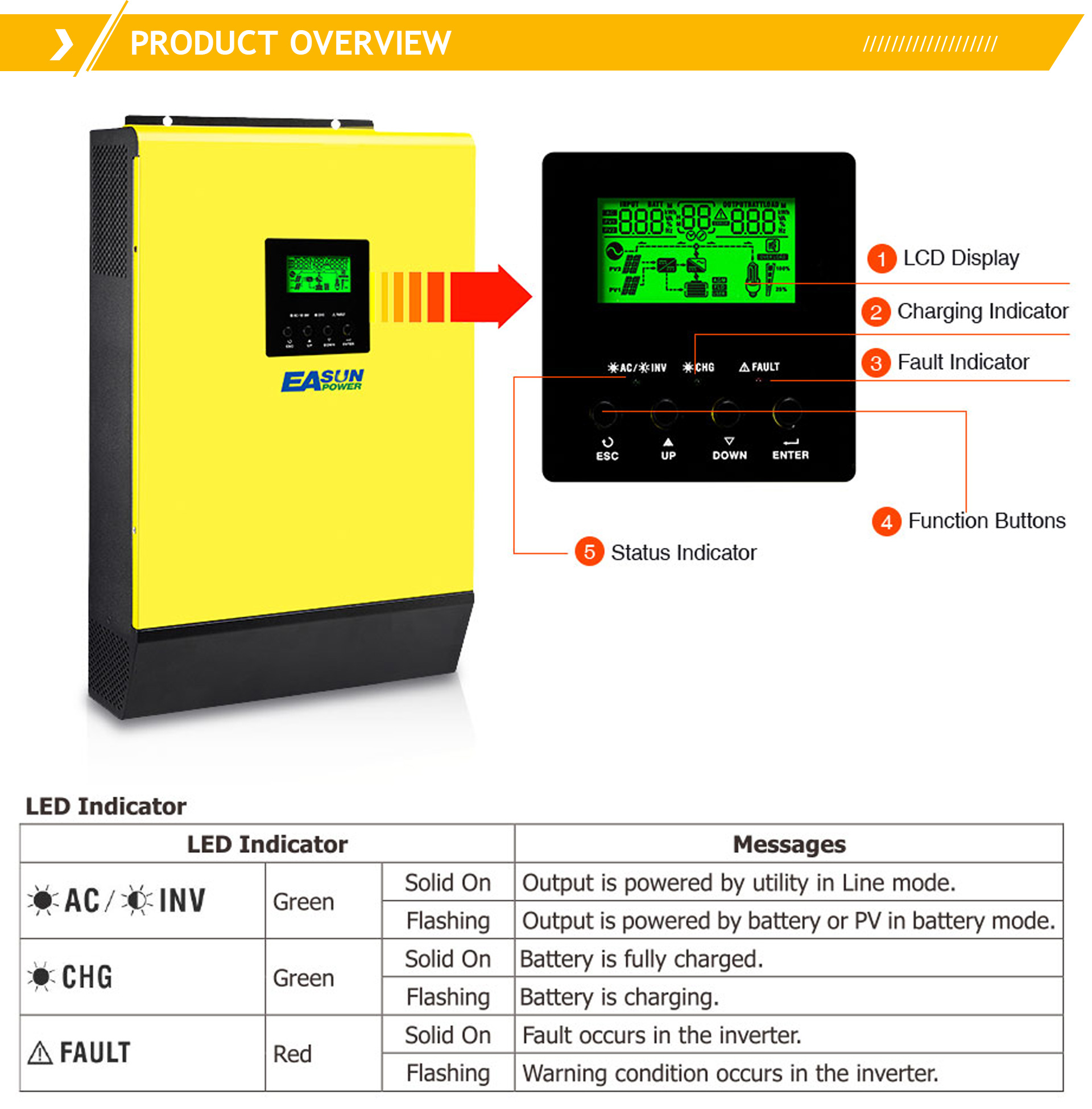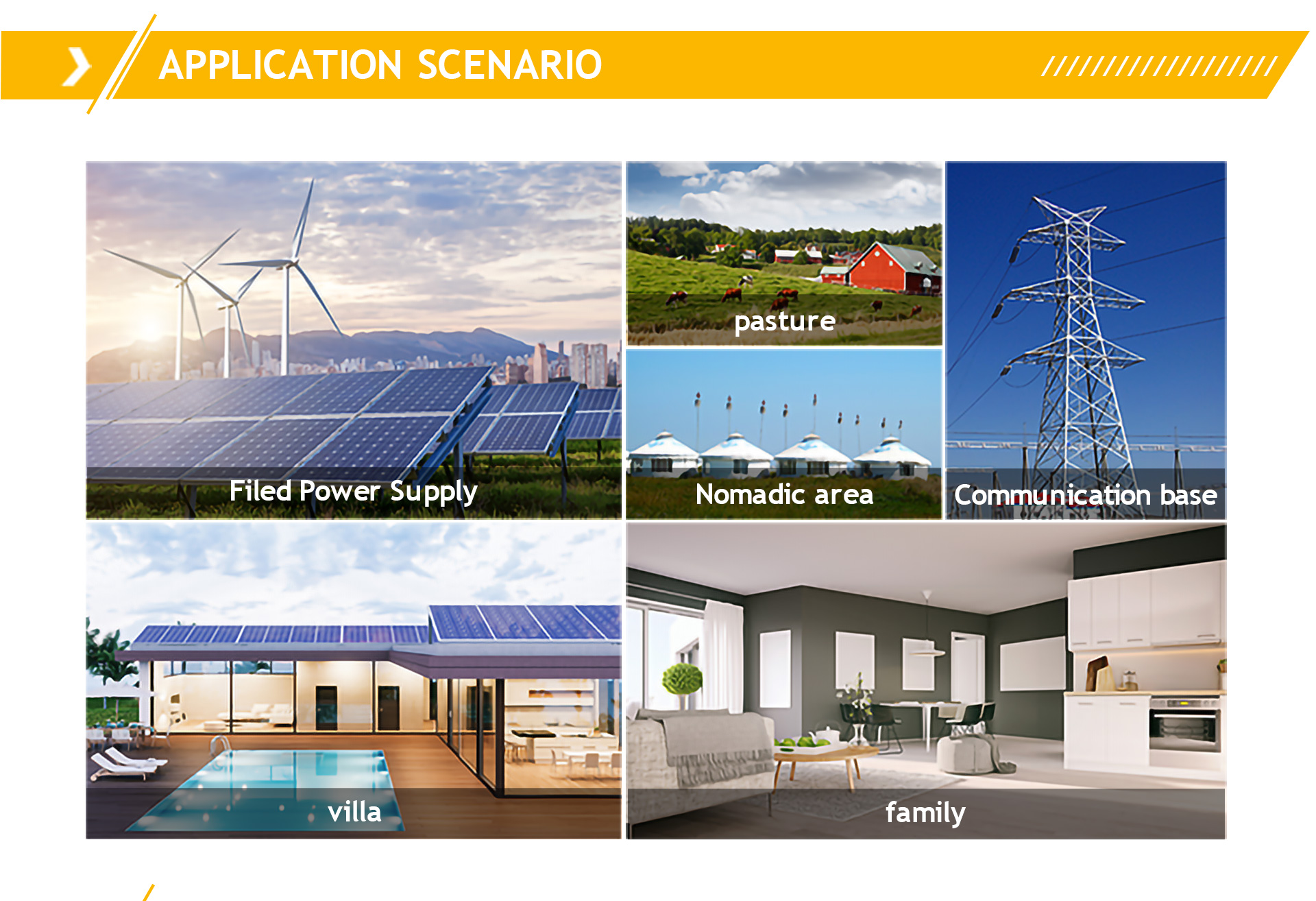 Easun Power Technology Corp Limited is located in Shenzhen China. We offers a full range of Solar product including : Solar inverters/ Solar Charge Controller / Solar panels/ Battery / Solar pump inverters / Power inverters / Portable solar generator, etc. all of our product with low MOQ and in stock for customized logo. We commits to offer high quality products, has a team of professional and experienced specialists in the field of photovoltaic. Our products are now capable of meeting the most demanding requests, both for residential and commercial applications. With a comprehensive sales & marketing network and experienced after-service center, EASUN provides the best service for our customers.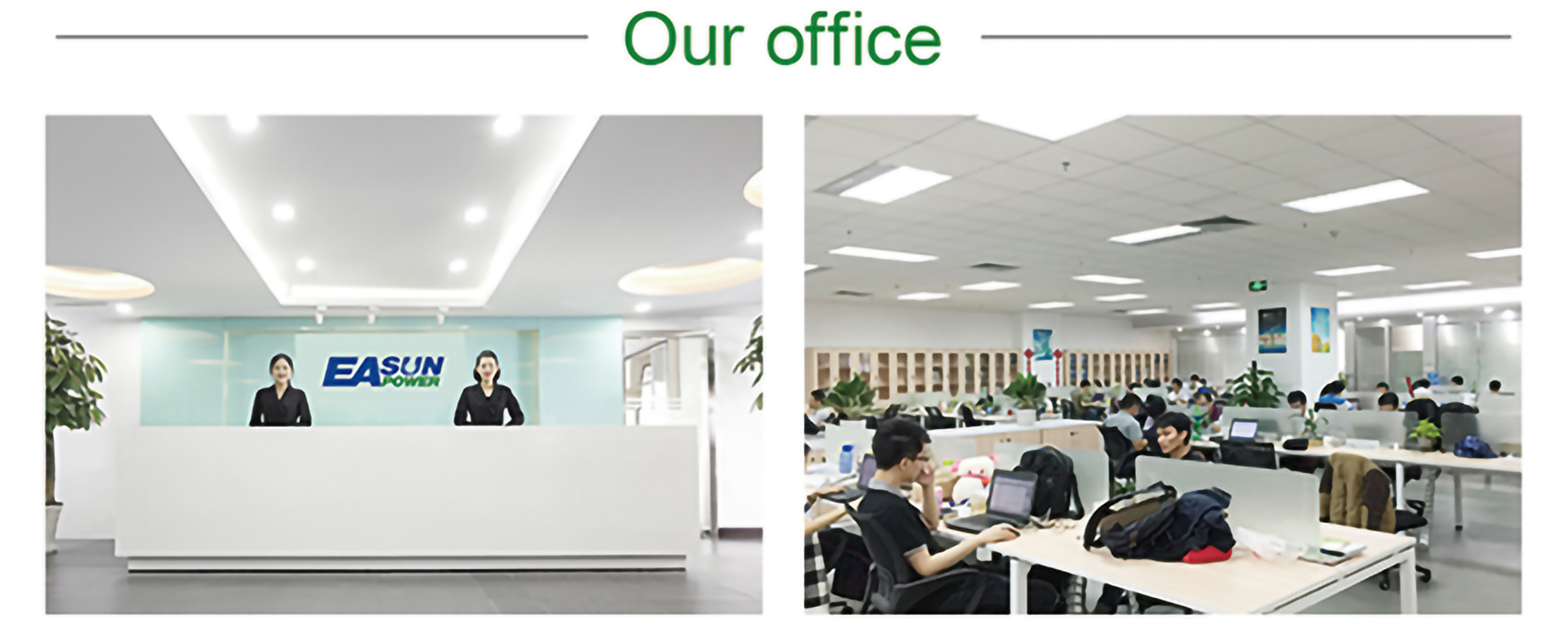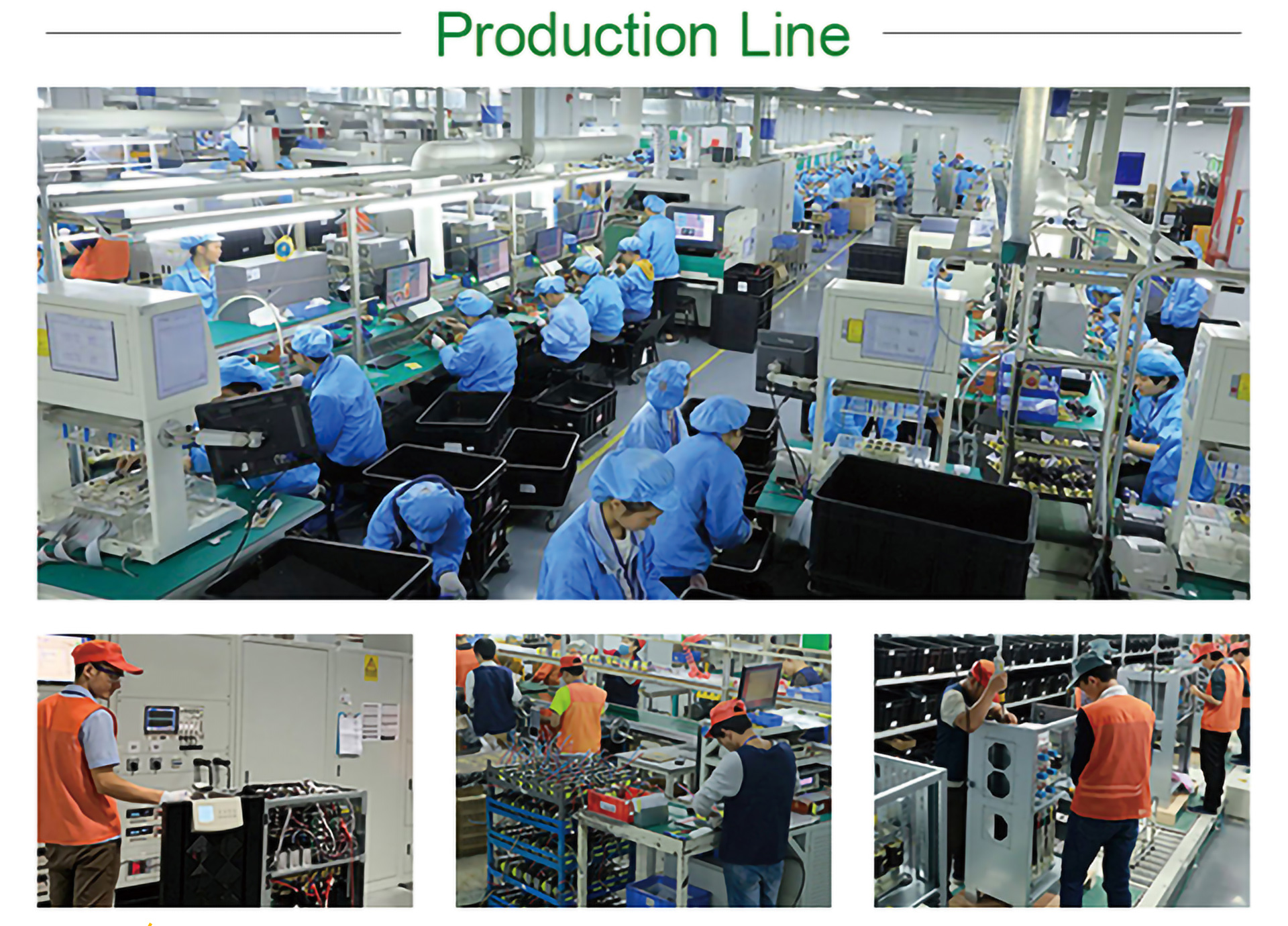 1. Because this inverter is non isolated, only three types of PV modules are acceptable: single
crystalline, poly crystalline with class A rated and CIGS modules.
To avoid any malfunction, do not connect any PV modules with possible current leakage to the inverter. For
example, grounded PV modules will cause current leakage to the inverter. When using CIGS modules, please
be sure NO grounding.
2.Before connecting to AC in put power source , please install a separate AC breaker between
inverter and AC input power source . This will ensure the inverter can be securely disconnected during
maintenance and fully protected from over current of AC input. The recommended spec of AC b reaker is 16A
for 1.5KW and 32A for 3KW and 5 0A for 5KW
There are two terminal blocks with "IN" and "OUT" markings. Please do NOT mis connect input
and output connectors.
Main Features
Pure sine wave max 5000w output
Max 80A MPPT solar charger (max 5kw PV array)
Max 450Vdc input
HYBRID Grid-Tie / Off Grid SOLAR inverter for 48V system
Parallel support up to 9 units
Batteryless operation
Total system max charging: 80A
Bundled monitoring & setting software
Supports 50hz or 60hz (program adjustable)
Grid feedback when there is excess energy
USB interface available
Able to use ac grid or generator power
Timer setting for AC charging & output now available