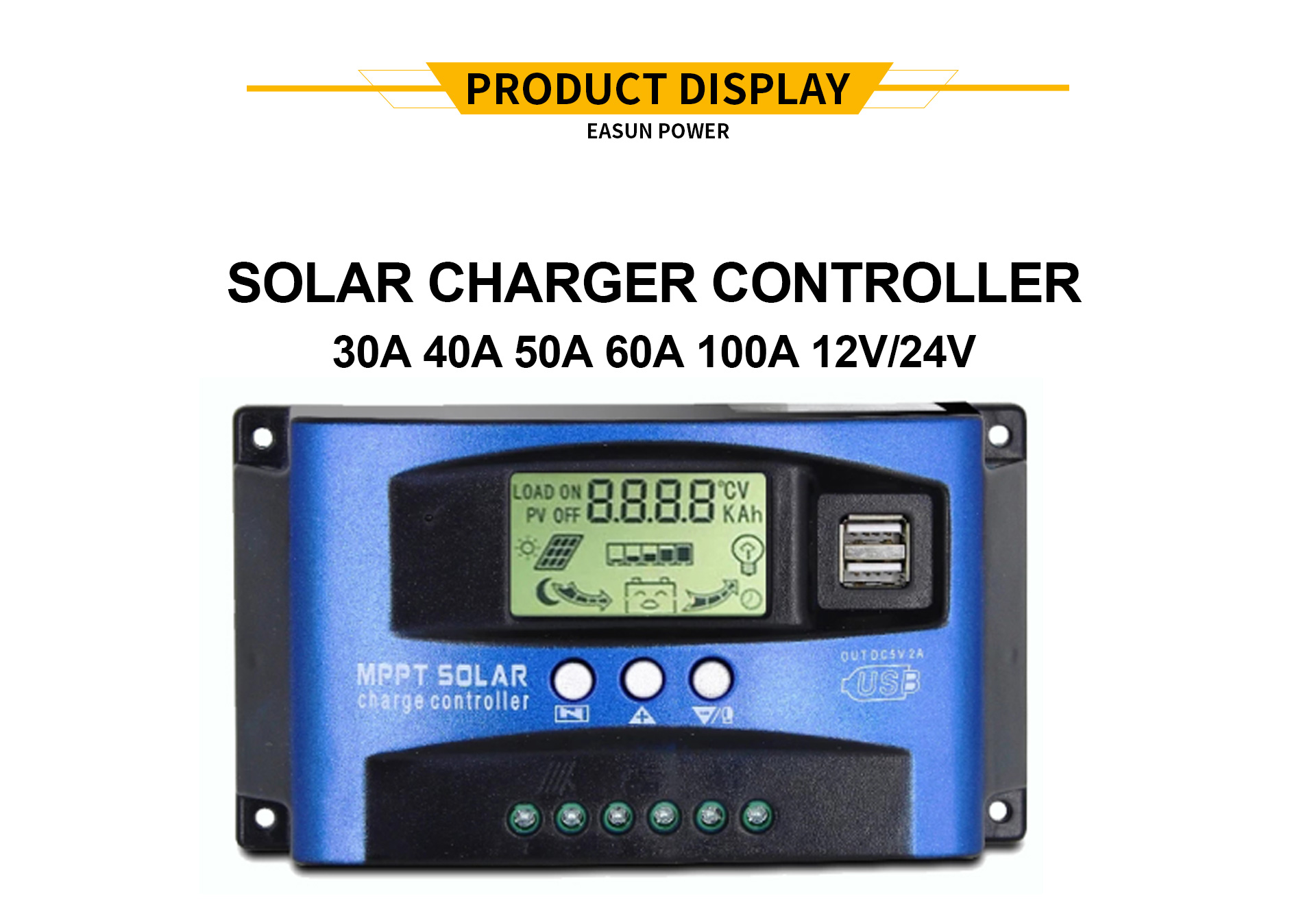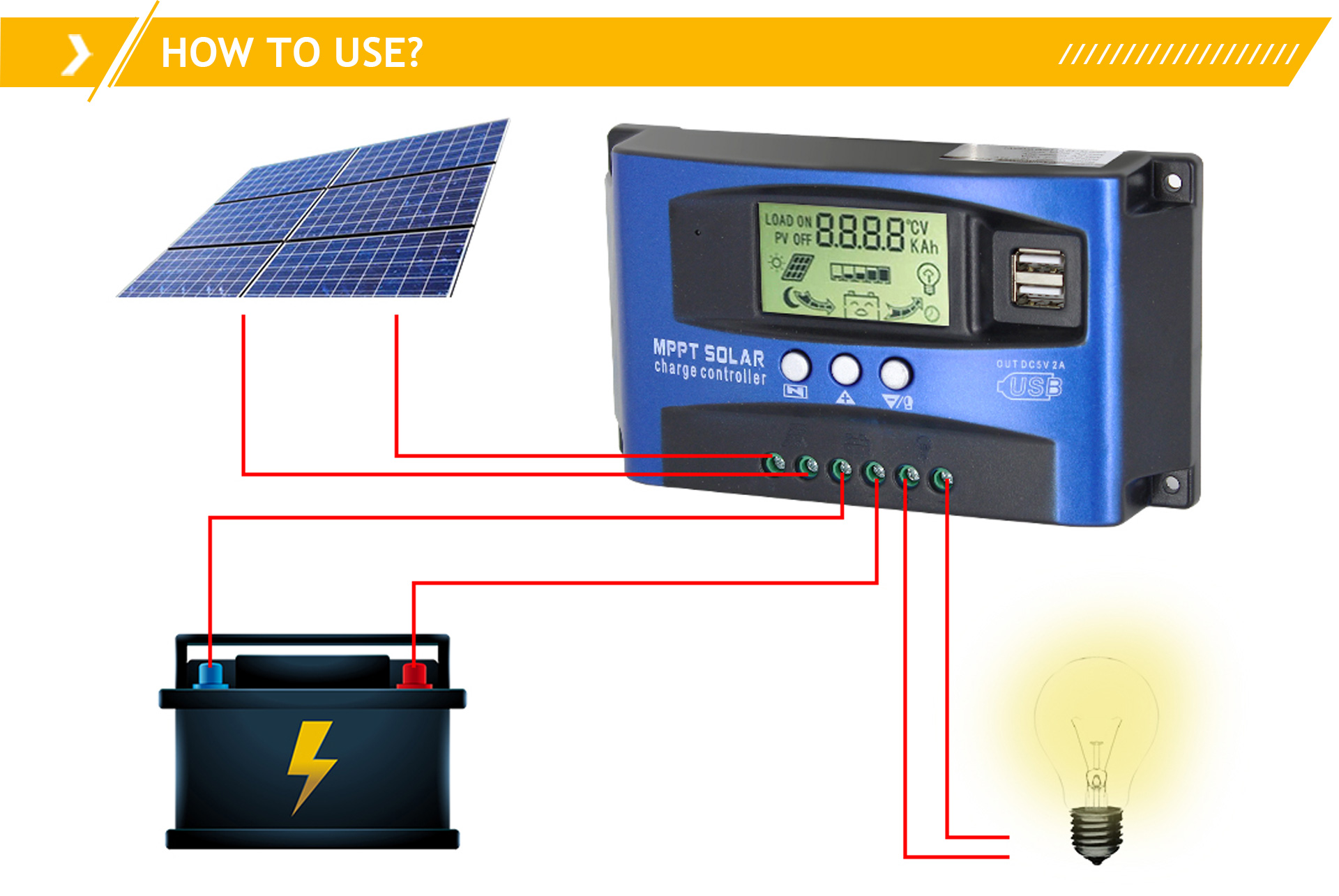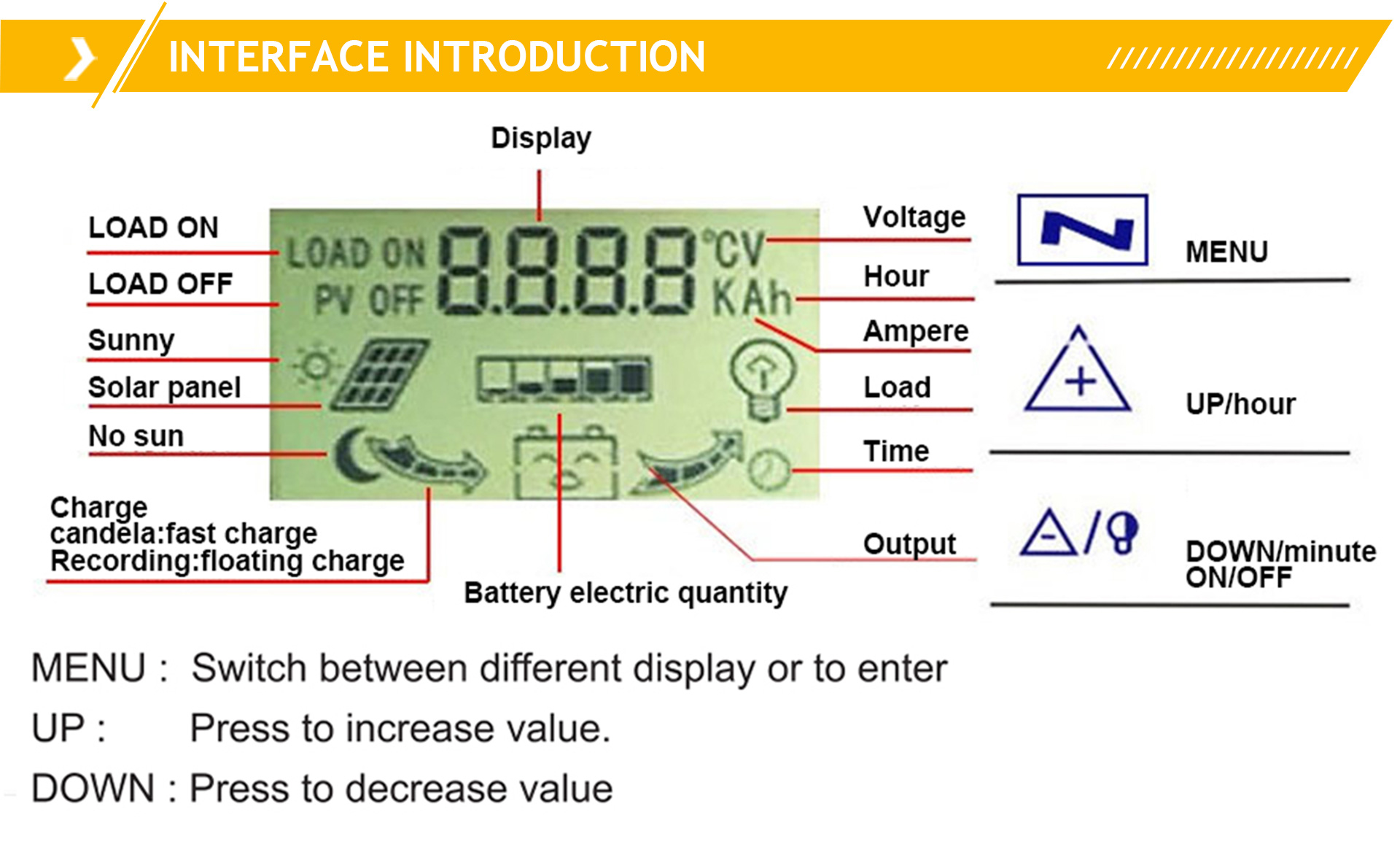 1. Always keep the battery on fill voltage condition.
2. Prevent the battery from over-charging.
3. Prevent the battery from over-discharging.
4. Prevent the battery from reverse charging to solar panels during
5. Reverse Polarity Protection for Battery
6. Reverse Polarity Protection for Solar Panels
7. When the battery voltage is low, the controller will
automatically cut off the load from the system. If the voltage of
battery is back to normal and the load will restart working.
9. According to the battery voltage grade, the controller can
automatically set charge-off voltage, the load-off voltage, the
load- restore voltage. (The parameter is default under 25℃
condition, locked by the CPU procedure, cannot adjust.)
10. The controller will automatically compensate the temperature of
the charging voltage according to the changes of ambient temperature.
Features:
1. Industrial-grade master chip, 16 AD sampling accuracy, temperature, charging current,
discharge current accurate real-time display, power generation at a glance.
2. Automatic focusing MPPT tracking charging, high charging efficiency, non-stop detection
during charging, bidirectional focusing tracking.
3. Large-screen LCD display, adjustable charging and discharging parameters. UItra-wide charge
and discharge adjustable, as long as you understand the characteristics of the battery set its
corresponding charging parameters, you can charge a battery. When the output is off, the time
can be adjusted, which is more convenient. (on the market, there is no point adjustment)
4. Acomplete three-phase charge management, effectively protect the battery, the battery is more
5. Built-in overheating, overcurrent short circuit, open circuit protection, reverse connection
protection,when the fault is eliminated, the controller automatically recovers, does not damage
6. Bidirectional MoS tube anti-backflow circuit, high-power charging mode, ultra-low heat.
7. R5. 0 solar charging DC plug, R5. 0 DC lamp output DC plug, convenient connection.
2. Rated current: 30/40/50/60/100A
4. Max. PV input power: 750W(12V) / 1500W(24V)
1 x Solar Panels Battery Charge Controller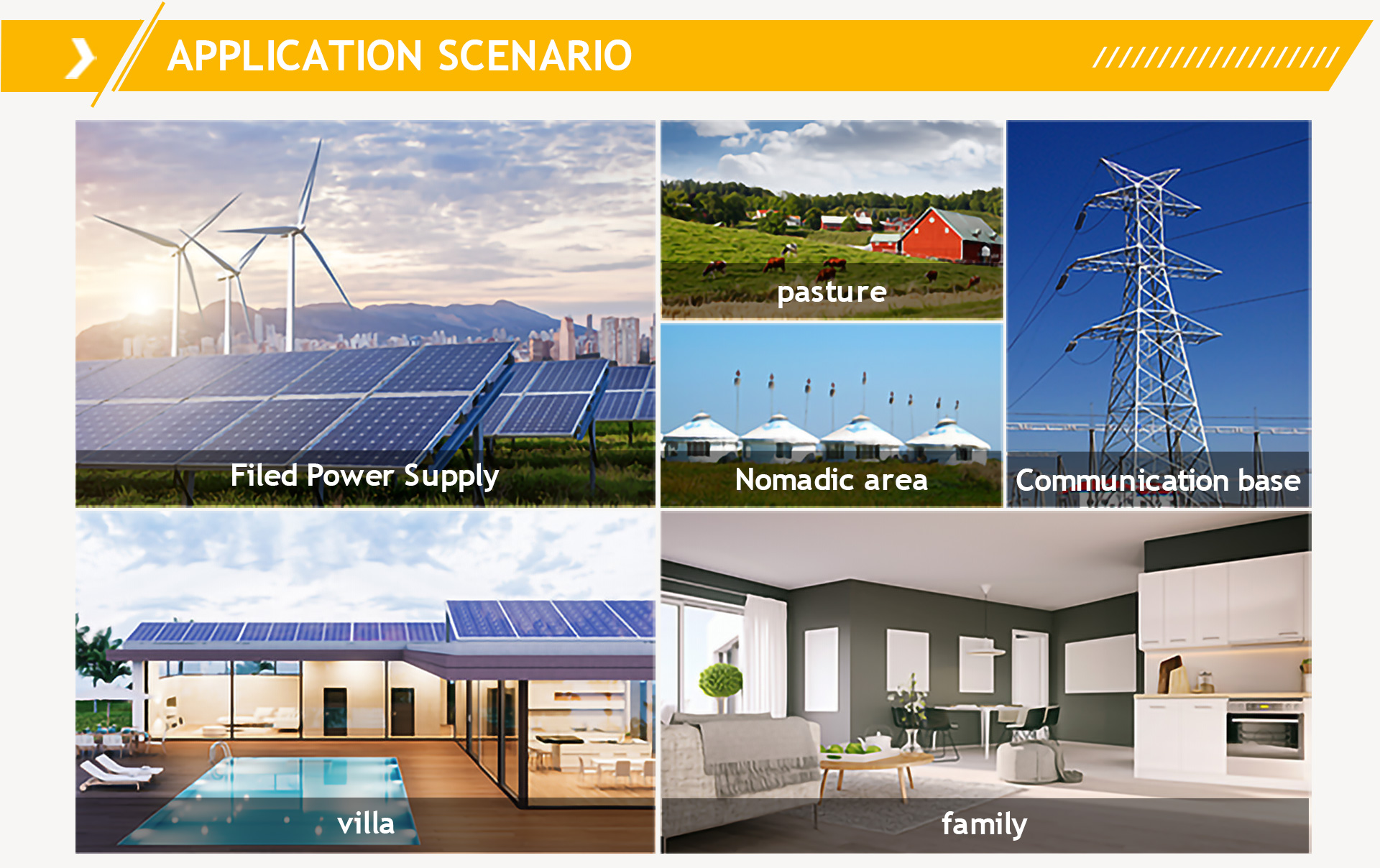 Easun Power Technology Corp Limited is located in Shenzhen China. We offers a full range of Solar product including : Solar inverters/ Solar Charge Controller / Solar panels/ Battery / Solar pump inverters / Power inverters / Portable solar generator, etc. all of our product with low MOQ and in stock for customized logo. We commits to offer high quality products, has a team of professional and experienced specialists in the field of photovoltaic. Our products are now capable of meeting the most demanding requests, both for residential and commercial applications. With a comprehensive sales & marketing network and experienced after-service center, EASUN provides the best service for our customers.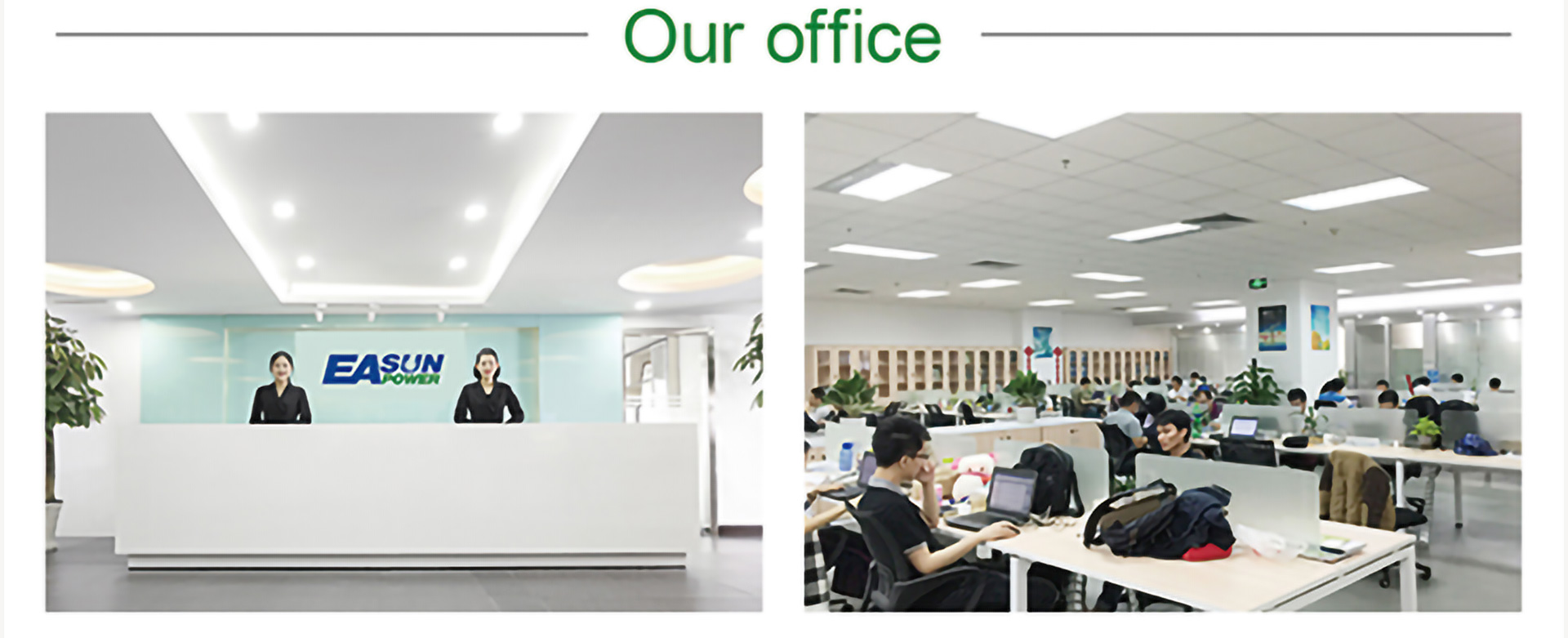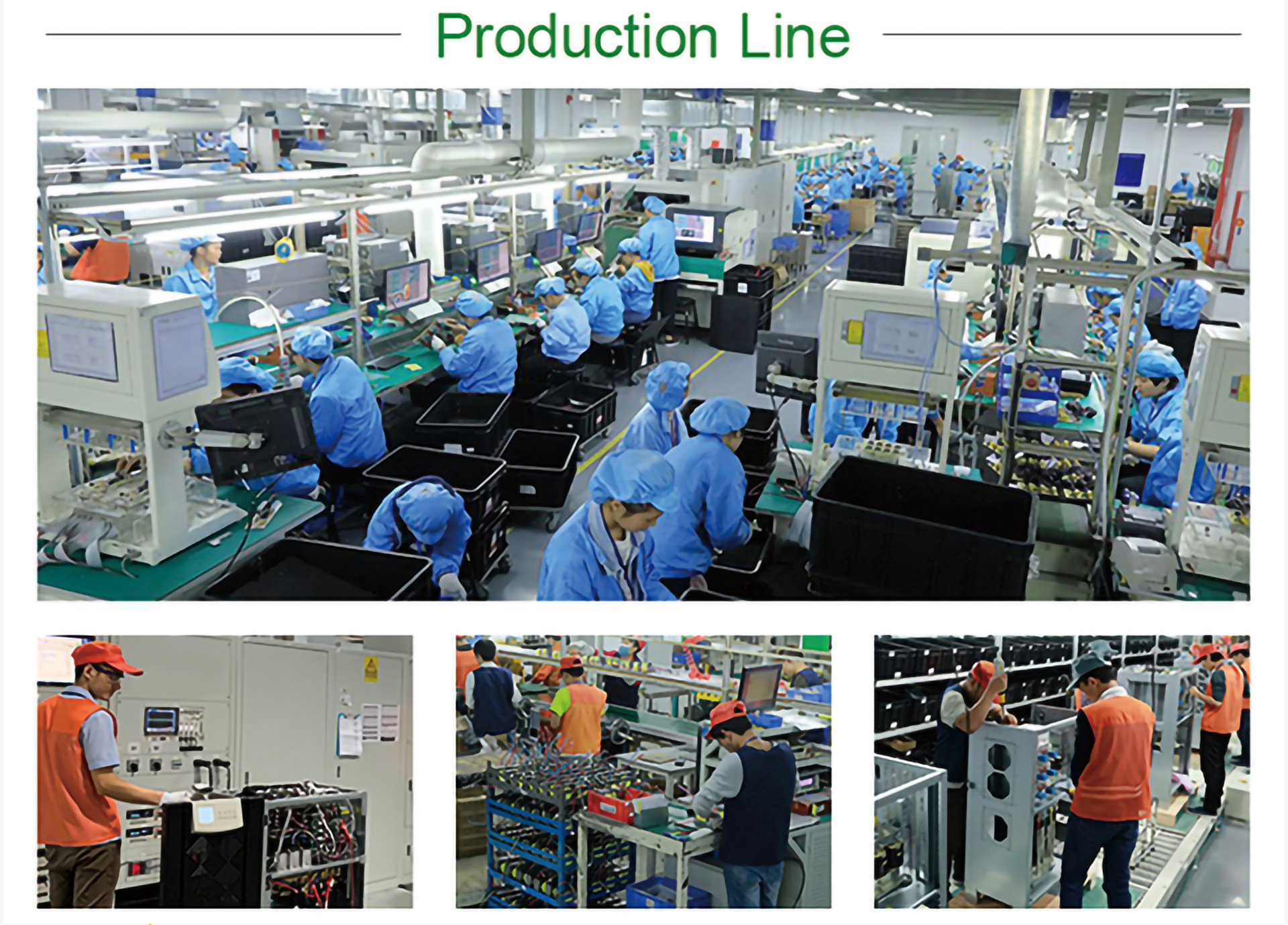 FAQ
1. Who are we?
We are Easun Power factory is a leading high-tech enterprise which established in 2012. It is located in Shenzhen China, sell to North America(25.00%),Mid Eas(15.00%),Southern Europe(15.00%),Western Europe(10.00%),South America(5.00%),Eastern Europe(5.00%),SoutheastAsia(5.00%),Africa(5.00%),Oceania(5.00%),Eastern Asia(5.00%),Northern Europe(5.00%). There are total about50-100 people in our office.
2. Why choose us ?
With strong R&D, manufacture and quality control of inverter products;
We have built a comprehensive sales & marketing network and experienced after-service center;
3. What can you buy from us?
Solar Inverter, Car Power Inverter , Solar Charger Controller,Battery
4. Q: How to order ?
A: Step 1, please tell us model name or link and quantity you need;
Step 2, then we will make a PI for you to confirm the order details;
Step 3, when we confirmed everything, can arrange the payment;
Step 4, finally we deliver the goods within the scheduled time.
5. Q: When will make delivery ?
A: Delivery time
-Sample order: 1-3 days after receipt of the full payment.
-Stock order: 3-7 days after receipt of the full payment.
-OEM order: 12-20 days after receipt of the deposit.
6. After-sales Service
1 year warranty for all kinds of Inverter;
If you find any defective accessories after receiving the goods, please contact us at once. we will give you the new parts forfree to replace in the next order after confirmation, as an experienced manufacturer, you can rest assured of the quality andafter-sales service. ( Please refuse to sign if the goods package in broken situation )
7. What services can we provide?
Accepted Delivery Terms: FOB,CFR,CIF,EXW,CIP,FCA,Express Delivery;
Accepted Payment Currency:USD,EUR,CAD,AUD,HKD,GBP,CNY;
Accepted Payment Type: T/T,L/C,PayPal,Western Union,Cash,Escrow;
Transportation: DHL, UPS , EMS, FedEx, TNT, Air freight , Sea freight, Train way.